Airy Blog
Director's Blog – July 7, 2017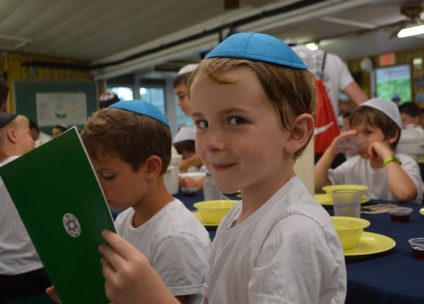 "Bim Bam, Bim Bim Bim Bam"
The start of Shabbat at Camp Airy is one aspect of camp that feels as special today as it did way back then during my summers as camper here. At the end of fifth period, everyone heads back to the bunks for showers. Campers and staff all break out their Shabbat whites – some in collared shirts, some in tees. The procession to our Friday service starts just before 6 pm. One newer wrinkle in recent summers is the "Shabbox" – each bunk has its own shoe-box sized tub with prayer books, yarmulkes, and assorted song sheets. Once everyone is gathered and seated – for many summers in the dining hall (and in inclement weather), and now in our refurbished campfire site – our service begins.
Thinking back over the years, I fondly recall many of the friendly faces and personalities that helped lead Airy's Shabbat services – Andy Bursten, Neil Berlin, Joel Robinson, Hal Schevitz, Lad Dvorchik, Mike Riffkin, Mark Rabkin, and most recently Shy Ashkenazi. A wonderful fixture of services then and now is the participation of campers and staff. Whether as choir members or leading a responsive reading, it is always heartwarming to see how many people want to play a role.
The exclamation point on our Friday shabbat service was and is "Bim Bam." No song gets an Airy crowd as animated as "Bim Bam." When 500+ people can sing "Cherry Berry Berry" in unison, and perform a crescendo of "Shabbat Shabbat," you know the song and the scene are special. And the cherry (pun in tended) on top:
"When I forgot the words to my specific song, the Baal Shem Tov reminded me that Bim Bam was enough to regenerate my soul."
Shabbat Shalom!
Marty
Today's Birthdays
Joshua S.
Evan L.
Jake S.
Today's Menu
[table "" not found /]
Today's Weather

High: 90°F | Low: 68°F
After some morning rain, the sun reappeared and the day was beautiful!