Louise Blog
Director's Blog – July 7, 2017
 GRATITUDE AT CAMP LOUISE!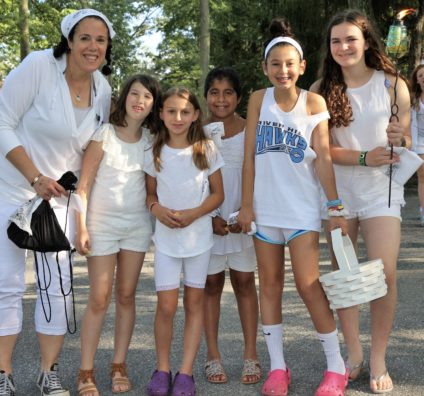 For tonight's Shabbat candle lighting, campers were nominated for displaying gratitude/hakarat hatov. Every morning, we read in The Daily (our newsletter) about our middah (value) of the week. In today's Daily, it said:
Living in a balanced way means your "thank you for" list should be longer than your "I want" list.              How's your balance today?
For these campers, their balance is admirable. They were noticed by friends and staff for demonstrating gratitude in a variety of ways:
When a Unit A camper was sick, she was so grateful to a bunkmate who helped do her job for her.
A camper in Unit A is thankful for her friends and she passed bracelets out to all of them.
A Unit D camper is very thankful for her friends at camp and her experiences at camp. She makes it clear by thanking counselors at activities who teach her new skills!
A camper in Unit D has shown great gratitude. After she hurt her foot, she was so appreciative of the Health Center, the staff around camp and her bunkmates for helping her feel better.
A camper in Unit E wrote a nice note for everyone in the bunk thanking them for being themselves and for being the best camp sisters ever!
It is so easy to think about your wants and the things you don't have. For today, try concentrating on your thank you list.
Pick up the phone and let someone know how grateful you are for their friendship. Write a letter to a former teacher or camp counselor letting them know the impact they had on your life. Pay for someone's coffee or toll – just because you can. Volunteer your time for a cause you are passionate about. Compliment someone.
Find something to be grateful for each and every day.
For all of us here at Camp Louise, that's pretty easy….
Shabbat Shalom,
Alicia
[bq_color]
Today's Birthdays

Ayme – Staff
[/bq_color]
Today's Menu
[table "" not found /]
Today's Weather
High: 85°F | Low: 68°F – A little bit of rain this morning and then the sun came out and it was a beautiful day!