Airy Blog
Director's Blog – July 7, 2018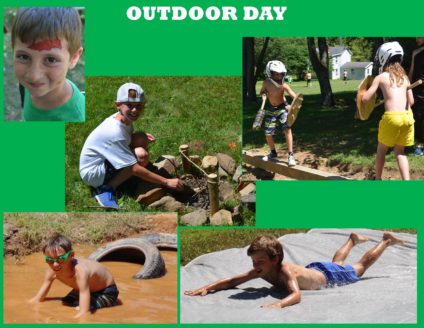 "The Great(est) Outdoors"
One of the finest Camp Airy traditions is Outdoor Day. For as long as I can remember, one Saturday each summer the Airy Outdoor Department (often joined by their Louise counterparts) transforms the area around Timber Lodge and Chocolate House into a world filled with adventure and wonder.
In summers past, Outdoor Day themes have included "Avengers," "Pirates of the Caribbean," "Lord of the Rings" and more. Today, the closely guarded secret theme was revealed after Shabbat services – The Greek Gods of Olympus. Throughout the afternoon and early evening, Airy campers and staff toured through stations that included riding a bike in the "hippodrome," fire building, Greek food and drink made right here in camp, and of course a mud pit! The afternoon also featured free swim time at the Airy pool.
When our campers have the chance to spend the afternoon with Outdoors, it give them a chance to find their inner adventurer. We truly embrace the challenge to provide our campers with experiences they won't find at home, and those experiences are more meaningful when in the company of people they don't see at home. Camp legend Bob, a member of Airy Outdoors who was on staff when I was a camper, oversees the cooking pit. He's originally from the UK, and now resides in Arizona. He is the friendly face families see when they first cross the train tracks on drop-off day. As I was making my way around Outdoor Day, he called out "Marty … I knew you when you were 10 … now come here and eat this." With a nervous laugh I complied and walked to the serving area. In a word – delicious.
Kudos to the Airy Outdoors department, led by Gary and Jon, for the fun afternoon. All is well on Mount Olympus.
Marty
Today's Birthdays
Josh
Today's Menu
[table "" not found /]
Today's Airy Weather

High: 77°F | Low: 58°F
Cool, sunny and BEAUTIFUL.