Louise Blog
Director's Blog – July 7, 2018
JEWISH CHICKS ROCK – BAND CAMP PART 1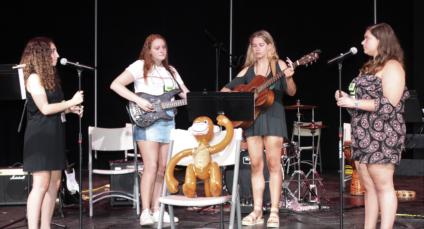 If you walked into our library this week, it would not be what you may expect…..microphones, speakers, electric guitars, keyboards, tambourines, and drum sets. And you know it is Jewish Chicks Rock week!
Naomi Less, founder of Jewish Chicks Rock and bandleader of The Naomi Less Band, and her husband and fellow musician Glenn Grossman spent the week with us at Camp Louise at our very own rock band camp.
Campers auditioned, band placements made and rehearsals began! In our 8th year working with Jewish Chicks Rock, we had the most number of campers participating with 5 stellar bands:
CIT Band – Hinei Matov by Elana Arian
All 4 One – Mayim by Joanie Leeds
The Rocking Rebels – Ma'ariv by Robbi Sherwin
It's a Crowd – Gibor by Naomi Less and Glenn Grossman
Stir Fry – Miriam's Song by Debbie Friedman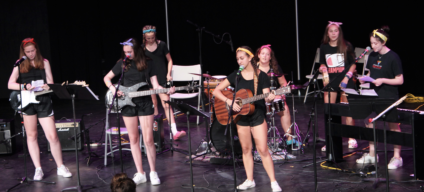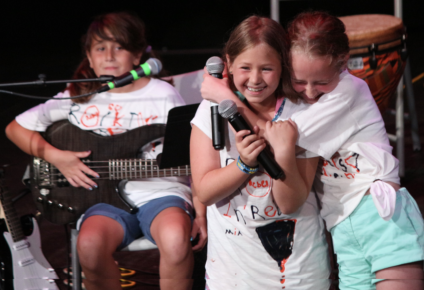 And another highlight was the opening act – our incredible staff band!
Staff Band Motley Jewz – Meshuga'at by Naomi Less and Glenn Grossman
Each band chose a song by a modern, contemporary Jewish female writer. They looked into the meaning of the songs. They even had an opportunity to Face Time with one of the songwriters (Elana Arian) to hear her approach to how she produced the song. Arian shared her vision for how the camp band could interpret the song.
Naomi is so proud of the work the bands did and the new things they tried out this year. She said, "This was the first year that there was a band with no percussion or drums (CIT Band). Some of the other bands really focused on harmonies and holding their own part while being part of a group. "
Another highlight was seeing campers come back year after year to be in a band and to hear their progression. Some of the CITs hadn't performed in years, and they gathered again this year in an amazing quartet! Other campers joined this year for the first time!
What a great night to rock on at Camp Louise!
Alicia
[bq_color]
Today's Birthdays

AY – Health Center Office Assistant
[/bq_color]
Today's Menu
[table "" not found /]
Today's Weather

High: 80°F | Low: 57°F
Today was what we like to call a Chamber of Commerce weather day – a light chill in the morning and a day filled with the bluest of skies.  Simply beautiful!