Airy Blog
Director's Blog – July 8, 2015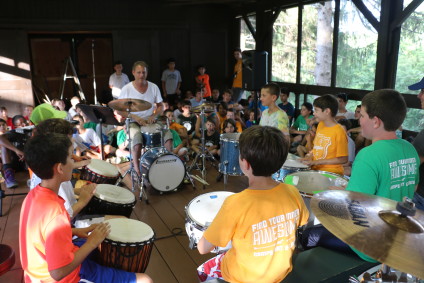 Last summer, I spent an evening at Camp Louise for dinner and to see a show called "Jewish Chicks Rock." Our daughter was performing in a band. I thought "This'll be cute," but when I saw the show I was floored. Her band, and the others that performed, were really good. In less than a week's time, a few groups of girls transformed from musical neophytes to stage-worthy bands. Our executive director Jonathan asked me "Can we make this happen for the boys?"
Today at Airy was the debut performance of the Airy Percussion Project. Glenn Grossman and Naomi Less arrived at Airy on July 3. Five days later, three drum groups – The Seven Beats, The Airy Rock-lins, and the Shalo-has – performed for the whole camp. They brought the house down. These young men had the initiative and courage to audition for the groups. They had the work ethic to attend several hours of instruction and rehearsals. The boys walked away from the project with a new skill, a sense of accomplishment, and the knowledge that they were trailblazers for a new Airy endeavor.
What transpired between last summer and this to make this project a reality also deserves a mention. Our Airy and Louise leadership teams began collaborating in October in order to make 2015 the greatest summer it could be. We knew it would be a challenge, but very much worthwhile, to share as many great programs, facilities and people as possible. Dorf, Stacy, Jen and Jonathan spearheaded the programming and calendar collaboration for Jewish Chicks Rock and Airy Percussion Project. Airy and Louise tech and music staff members pitched in to help both camps' final performances come to fruition. And the July 4 AiryLouise-Stock was a great bridge and transition between the two projects.
We aim to give campers a chance to have experiences that they can't get at home. The Airy Percussion Project is proof that we're getting it done. Airy and Louise are sad to see Glenn and Naomi pack up and leave on Thursday, but we know they'll find their way back to the Catoctins.
[bq_color]
Today's Birthdays

Jason Creeger – Assistant Director
[/bq_color]
Today's Menu
[table "" not found /]
Today's Weather

High: 84°F | Low: 73°F
It was mostly sunny, hot and humid. There was some morning rain, but our activities were undeterred
Marty Rochlin
Director