Airy Blog
Director's Blog – July 8, 2017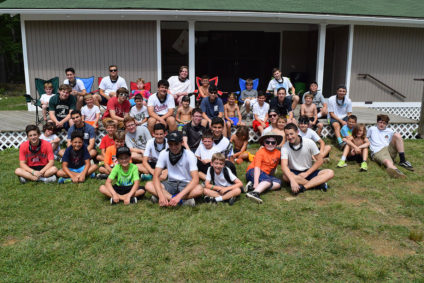 "You've Got a Friend"
While most people associate a CIT (counselor in training) summer with learning to be a camp staff member, Camps Airy and Louise approach this important responsibility in three different summers. Our rising high school juniors are known as CAs, or "Counselor Assistant." These trainees attend either a 4 or 3 week session, like most of them did as STs (Senior Trainees – rising 10th graders) the summer before. As CAs, there are more opportunities for leadership, training, and of course working with younger Airy campers.
Pictured here are the CAs with their pals from Unit A. This Big Brother / Little Brother arrangement brings the two groups together for meals, rest periods, and unit activities. The younger guys love knowing some of the "big kids" in camp, and the CAs gain invaluable experience in the role of counselor. Campers can look back and recall who their CIT or CA was. It's a springboard for a positive camp relationship. But the CAs' work around camp doesn't end there.
The CAs have one of the the most important jobs in camp, as they run "Campteen." Campteen is where campers (and staff too … after all, we are campers at heart) get their evening snacks. Candy is most popular. They also offer assorted chips, fruit and on occasion novelty ice cream. Once upon a time, before camp was cashless, the CAs sold snowballs and the proceeds went to camperships. Now adays, although we don't snoballs, once a day Campteen is a hub of camp activity. The CAs are the engine that keeps it going.
Marty
Today's Birthdays
Jason – staff
Today's Menu
[table "" not found /]
Today's Weather

High: 86°F | Low: 71°F
A lovely day, then some evening rain, and finally a cool evening.