Louise Blog
Director's Blog – July 8, 2017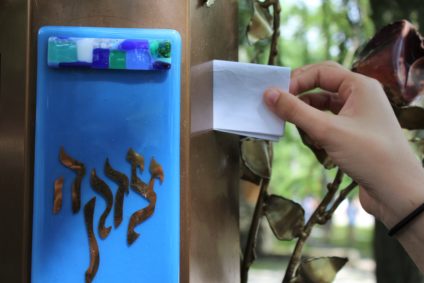 TODAY'S BLOG BROUGHT TO YOU BY RABBI ELISSA
I'm honored to be Alicia's guest blogger today, especially because she is my CIT – sister from way back in 1987 (long, long before most of our campers were born).
Camp Louise was born in 1922 with the purpose of making better the lives of young immigrant women toiling in Baltimore's factories. These young women would have the opportunity to breathe fresh country air, relax, and even learn new skills to improve their lives. This week, for the third summer, our campers have participated in a unique and inspiring act of tzedakah "righteous giving" that continues our founders' vision of lifting women up.
Kiva (www.kiva.org) is a platform that allows individuals and groups to lend small amounts of money to people around the world who apply for micro-loans. The loans enable borrowers to start or enhance a small business, build safe and sanitary living facilities for their families, and in so many other ways lift themselves out of difficult circumstances. When the borrowers repay their loans, the lenders can re-loan the money to another person in need or take the money back. During the past two summers we have loaned and re-loaned tzedakah funds generously donated by camp to help 9 women from around the globe. This summer we will add 6 more to our total.
On Friday afternoon, our campers learned about three women who have applied for micro-loans. Mercy from Kenya needed $300 for farm animals, Marisol from Rochester NY, needed $2000 for her small business and Adeola from Washington, DC needed $1025 who is starting a version of Air B-n-B which would allow observant Muslims to find accommodations with appropriate Halal food, access to Mosques etc. The campers heard their stories and then "voted" as a bunk unit on how camp should allocate the funds. Bunks placed their voting sheets into our beautiful camp tzedakah box outside Solarium. When we tabulated the results, our generous campers had decided overwhelmingly to fully fund Mercy's farm animals for $300, and to give Marisol $100 and Adeola $200 toward each of their goals.
The great Jewish teacher, Moses Maimonides, articulated a hierarchy of tzedakah, righteous giving. He said that the lowest level of tzedakah is giving less than one is able and giving that grudgingly. The highest level is to give so that the recipient is able to lift herself out of need. That is exactly what our campers learn and do through our Kiva program, continuing the vision that inspired Camp Louise's founders way back in '22.
[bq_color]
Today's Birthdays

Lea P – Staff
Ani – Dining Hall Manager
[/bq_color]
Today's Menu
[table "" not found /]
Today's Weather

High: 81°F | Low: 59°F – An absolutely gorgeous day!