Airy Blog
Director's Blog – July 8, 2018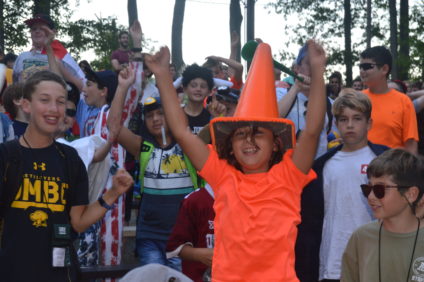 "Let's Make A Deal"
What do you get when you combine the first day of a new camp session, some wacky costumes, mystery prizes, and two wireless microphones? I'll tell you … you get a rollicking Welcome Show extravaganza to kick off Camp Airy's "2 Short" session. It was my privilege to welcome our new campers to camp before handing over the festivities to Assistant Director Rachael and Super Volunteer Scott. In matching blazers that can only be described as interesting, the duo started dealing.
Rachael meandered the crowd in search of worthy contestants – gaudy costumes, clever signs and silly shouting by campers all competed for her approval and selection to head to the stage. Scott would ask a camp trivia question, and the first camper to come up with the answer (audience participation and distraction was highly encouraged) would hear "Let's Make a Deal." Monte Hall himself (side note … how many blog readers know that reference?), or in more recent years Wayne Brady, would have approvingly said "Sababa" about the game – it was all good.
It's hard to say if the contestants won or lost. On one hand, winning camp swag like a buff, or a croakie, or green and white bandanas is great. On the other hand, the unselected prizes may have been a real steal. I cannot confirm or deny that one of the unopened prizes was a whole-bunk trip out of camp to … no, I've said too much.
To cap off the evening, the whole camp was invited to Make Your Own Sundaes. The robust spread of flavors and toppings was manned by Airy staff. That crew took (un)seriously their jobs for scooping and delivering toppings. Sprinkles may have been airborne from time to time. A good time was had by all.
An evening this awesome makes it easy to forget how fun the earlier part of the day was. Our Americana Lip Sync Battle, rained out from July 4, was a rocking appetizer activity right before our iconic first day lunch … say it with me … PIZZA BAGELS, CURLY FRIES and CHOCOLATE MILK.
With yet another superb weather day on tap, Tuesday looks terrific.
Marty
Today's Birthdays
None
Today's Menu
[table "" not found /]
Today's Airy Weather

High: 82°F | Low: 60°F
Another. Gorgeous. Day.