Airy Blog
Director's Blog – July 9, 2015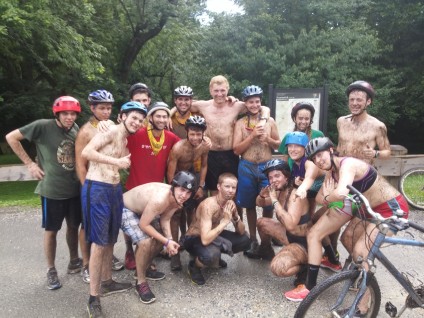 There are some things you can only do at camp. So when our Airy and Louise families entrust us with their children, we take pride in delivering experiences and opportunities that meet that criteria. The Airy-Louise Trainee Overnights are prime examples.
The image today shows some of our CAs (rising 11th graders) during their trip. They took on an outdoor adventure that included 6 miles of canoeing, 11 miles of biking, and 4 miles of hiking. At the trip's outset, some were excited, some were unsure, and some were in between. Two days later, upon their return, the enthusiastic consensus was "What an experience!"
The thought process that goes into planning the trainee overnights can be described in this way – What can experience or opportunity can we provide for the campers that …
… is unique to camp?
… allows for campers and staff to be collaborative and interactive?
… presents challenges and a chance to overcome them?
… encourages initiative and leadership?
… will be memorable?
The CA Trip was a collaborative planning effort, led by Outdoor Coordinator Gary Tublin and members of Airy-Louise outdoors and trainee division staff. This was a new trip, so I had some nervous anticipation about how it would be received. As I was walking around the Trainee Division delivering the kids' mail and soliciting feedback, the overwhelming reaction was positive. The campers and staff were proud, fulfilled … and tired! It's not often a group of CAs is so excited to shower and go to bed!
[bq_color]
Today's Birthdays

Jack S.
[/bq_color]
Today's Menu
[table "" not found /]
Today's Weather

High: 90°F | Low: 73°F
It was mostly sunny, hot and humid. A big, quick storm moved through during our rest period before dinner.
Marty Rochlin
Director