Airy Blog
Director's Blog – July 9, 2017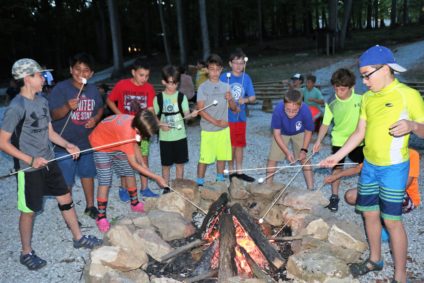 "Welcome Back"
In addition to being a Gabe Kaplan reference (anyone paying attention?) , we said "welcome back" to so many familiar faces today. Some we knew from summers past, some from Open House, and others from recruiting events all around the area. So when you welcome people into your home, you do some special things. At camp, we have a few signature pieces.
Four times each summer – on our camper arrival days – we bring out one of our favorite, campiest meals. I talk about it to prospective campers and staff, in this county and abroad. What is it you are probably wondering? Pizza bagels and curly fries. Why not simply pizza? Won't any french fry work? No. And no. This is the meal. And when campers least expect it, a rousing rendition of "Pizza Man" is sung in the dining hall. And yes, it is a repeat-after-me-song.
Following that meal, we get down to the business of camp. Throughout the afternoon, our newly formed bunks follow their activity schedules. For the new arrivals (85 of them in all), they became (re)acquainted with the Airy hill. Tall in stature and long in tradition, the Airy hill is the path from the residential part of camp to the activity part of camp. Going down the hill is scenic and leisurely. Coming back up the hill, after three hours of swimming and running and everything else, is a different matter. When I was a camper, water fountains on the hill were a dream. The first place to get water was right outside the dining hall, and that line was sometimes substantial. We get smarter with age – there are two fountains on the hill nowadays.
The last "welcome back" piece of the evening is s'mores around a campfire. Sure it's a sweet treat to end the evening, but more importantly it's a communal, social experience. Gathered as a unit, old friends and new, staff from all over the map, and no technology to interfere or distract. It's one of the many instances at camp where we can proudly say "This is something that you can't quite do the same at home." Our setting and people are the difference.
We're looking forward to a great two weeks together.
Marty
Today's Birthdays
Campbell F.
Today's Menu
[table "" not found /]
Today's Weather

High: 86°F | Low: 70°F
A beautiful day to begin our new session.