Airy Blog
Director's Blog – July 9, 2018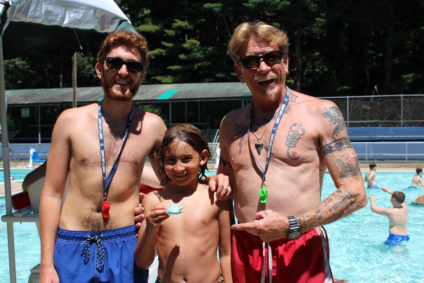 "Celebration"
Sometimes the best blogs are the ones that occur by happenstance. We have an idea ahead of time for blogs about the 4th of July, carnivals and dances, and AirLou out-of-camp trips. On some days, the story comes from one of wonderful images that our Airy photographers capture. You will really like today's story.
Today we're celebrating a camper accomplishing a swim milestone. He progressed in his instructional swim level. He is flanked in the picture by Airy's swim department leadership. The achievement was a big deal. The camper is holding a shark pool toy to commemorate the occasion. Our photographer was passing by and the pool staff called for her to come inside the pool gate. The swim staff recognized how important this moment was, and put in the extra effort to make the moment special.
There is so much about the story to appreciate. Many campers find their inner awesome at camp – in this case, it happened to be at the pool. The staff at the pool saw one of their pupils achieve success. They celebrated the camper and wanted him to feel super special about the moment. Chances are that the camper will take the feeling of accomplishment and develop a confidence to pursue another challenge. The swim staff may hold their heads a tad higher, feeling proud that they contributed to his success.
Today's story is about swimming, but I know there are similar celebrations happening every day all across camp. I like to say that camp is a place where kids "figure stuff out." I hope that as you browse through pictures each day, many of these special moments are revealed.
Marty
Today's Birthdays
Campbell
Today's Menu
[table "" not found /]
Today's Airy Weather

High: 86°F | Low: 66°F
Another. Gorgeous. Day … AGAIN!