Louise Blog
Director's Blog – July 9, 2018
CHOICE-A-PALOOZA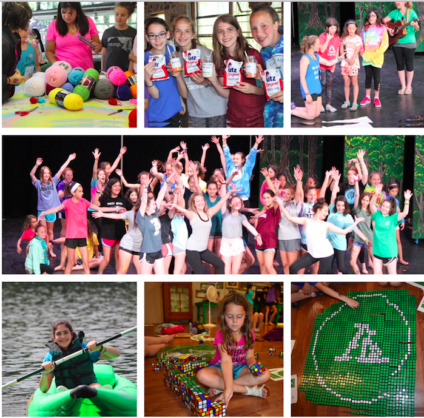 This past weekend was our first ever Choice-A-Palooza experience here at Camp Louise.  If you've never heard of a Choice-A-Palooza, you're not alone. We created this unique experience for our 4 and 7 week campers as a way to take a break from the regular programming in between our 2 week sessions, while we eagerly awaited the arrival of our new friends.
Over the weekend, we offered over 25 different activities for our campers.  These activities ranged from learning to solve a Rubik's Cube (which was later turned into the Camps Airy & Louise logo) to karate to songwriting to food science and beyond. We had Israeli counselors teaching campers how to make hummus and falafel. Our in-camp staff offered activities out of their regular camp jobs, like our farmer who taught some campers how to play Ultimate Frisbee.  We had former camp staff returning to the place they love – teaching needlepoint, dance, and journal making. We took some of our older campers to Fort Ritchie to experience the kayaks and canoes that we typically offer to our younger campers. And of course, we had lots of pool time.
Our Choice-A-Palooza program ended with everyone gathered in "Jill's Place" to celebrate the accomplishments of our weekend participants.  We had dance performances, songs and even an announcement about the group who was able to "escape the Escape Room" the quickest.
Overall, the first ever Choice-A-Palooza weekend was a success.  We are already talking about what new and unique activities we can offer in the future!  So all you four weekers for 2019 – get ready for another amazing Choice-A-Palooza!
Alicia
[bq_color]
Today's Birthdays

Sam – Cookery Department Head
Melissa – Health Center Office Manager
[/bq_color]
Today's Menu
[table "" not found /]
Today's WeatherM

High: 88°F | Low: 66°F
Picture perfect!