Louise Blog
Director's Blog – June 21, 2015
Today's Picture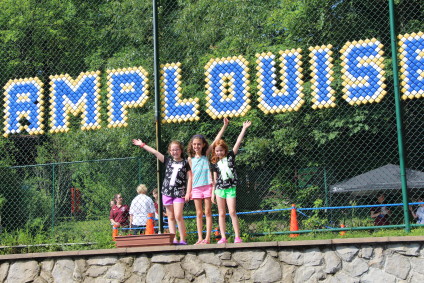 Welcome to Camp Louise and Happy Father's Day! After heavy rains, we were fortunate to have a beautiful morning filled with sunshine and smiling faces.
Those smiles belonged to the hundreds of campers we welcomed – some new and some returning. Tomorrow, you'll be able to relive the day through your CampInTouch account. In fact, every morning we post the happenings from the previous day.
After a quick bunk bonding activity, campers made their way to the Dining Hall where they were greeted by the enthusiastic cheers of the 2015 CITs. The afternoon was a series of rotations where campers signed up for weekly activities, met with their bunks for getting-to-know-you games, and were screened at the pool to be placed in the appropriate swim level. They even enjoyed a little free swim.
[bq_color]
Today's Birthdays

Happy 93rd birthday to Camp Louise!
[/bq_color]
After showers and dinner, campers dressed in their unit colors and learned their unit songs and cheers along with some general camp rules. The whole camp then met in the Terrace Theater for the interactive Welcome Show. Each unit and department performed an act for the rest of camp that got campers excited for all the activities we have to offer this summer. We learned and sang the Good Night Song – one of my favorite times of day.  Seeing the whole camp singing and swaying together…it truly is a wonderful sight!  Trainees had even more awesome bonding time at a special campfire. Everyone then settled in for their first night in their bunks.
I think everyone will sleep well tonight as we all had an early start with lots of excitement today.
Today's Menu
[table "" not found /]
As a reminder, there are lots of ways to stay connected to your child and camp.
Like us on Facebook
Log on to CampInTouch
Write a letter!
(Camper's Name, Bunk #, 24959 Pen Mar Road, Cascade, MD, 21719)
Watch our videos on Vimeo
Today's Weather

High: 90°F | Low: 70°F
We couldn't have asked for a more beautiful morning. The sun stayed out all afternoon and a light breeze could be felt all around camp.
The following is contact information for Unit Leaders and Division Heads.
I will be blogging to you nightly to report about all the amazing things happening at Camp Louise.
Thank you for giving us the opportunity to provide an amazing summer experience for your camper!  Here's to an incredible summer 2015!
Alicia Berlin
Director, Camp Louise