Louise Blog
Director's Blog – June 22, 2015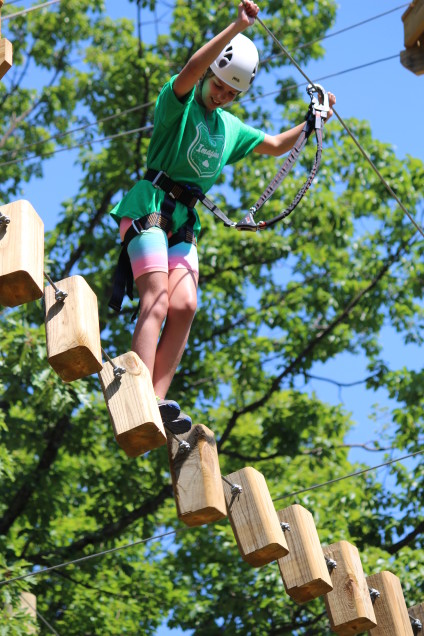 Today was the day we have truly been waiting for all year – the first full day of regular activities at camp!  I couldn't wait to see the Adventure Park on Field 1 in action with campers climbing and literally soaring to new heights.  I spent the afternoon with some bunks from Unit D as they ventured onto this amazing new element.
The Outdoors Staff gave their directions and got everyone harnessed in safely.  With bright shiny new helmets, there were mixed emotions in the group.  There was definitely A LOT of excitement as well as some nervous anticipation as the girls lined up to climb up to the platform.
Some of the counselors who were in the area commented about how fearless many of the girls seemed.  Many of the campers climbed up confidently as they decided on the level they each wanted to tackle today. Even the girls who seemed somewhat apprehensive harnessed up and climbed up to make the choice.
One by one, the campers made their way around the element hooking themselves in and choosing their level and route.  Some of the girls confidently walked across the tight ropes and through the challenges as if they were on the ground going for a stroll.  Others were more hesitant.  Either way, the cheering and encouragement from campers and staff was truly inspiring.  A lot of "You got this!" and "You're halfway across – only a little more to go!"  and "Way to go!" could be heard on Field 1.
I spoke to many of the campers when they were back on solid ground.  They all shared with me how amazing it was and unanimously their favorite part was the end – not because it was over, but because it was "cool."  The way down from the first level is by zip line and the way down from the higher levels is by a bungee jump.
I was chatting with one camper and asking her how she made the decision to start with the second level. She said, "Ya' know how people say that their eyes are bigger than their stomachs?  Well, my eyes are bigger for adventure."  She said that once she got up there, she was very nervous, but also SO excited.  She recounted each step of the way and how she felt.  When she got to one of the tightrope parts, she truly felt that she couldn't do it, but then she heard her friends from below giving her encouragement and helpful tips.  She put one foot in front of the other and she made it!  The pride she expressed was obvious.  What an accomplishment!
For some kids, simply putting on the harness is a personal achievement.  For others, it is climbing up the first pole to the platform.  Some journey across the first level while others go higher.
Check out our camp shirts for the summer – you can see one in today's featured picture.  Find Your Inner Awesome – Imagine.  Imagine what you can do, imagine what you can accomplish, imagine what you can be.  It starts by putting one foot in front of the other…..if a 12 year old can do it and successfully zip line down…..can't we all?!
[bq_color]
Today's Birthdays

It's hard to believe that in a camp so big, we have no birthdays today…….maybe tomorrow?!
[/bq_color]
Today's Menu
[table "" not found /]
Today's Weather

High: 88°F | Low: 76°F
The sun was shining today in 21719!
Until tomorrow….
Alicia
Director, Camp Louise