Airy Blog
Director's Blog – June 23, 2019
"I got that sunshine in my pocket, got that good song in my feet"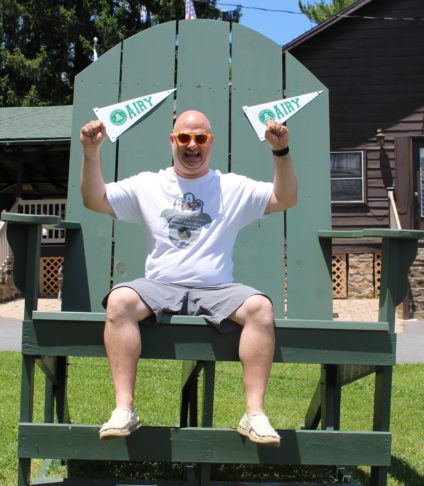 After the rainy summer of 2018, I figured we deserved a sunshine start to 2019. And boy did Mother Nature deliver! We wasted no time in getting into camp-mode as new campers arrived today. Even before the traditional favorite first lunch of pizza bagels and curly fries, all units toured camp to see all that was new and to learn about all of the activities that would be available to pick from later in sign-ups. Special thanks to the Airy CITs who accentuated our lunch by singing "Pizza Man."
Camp fun happens both in activity periods and out. Following an afternoon in which campers visited the Airy pool, gym, Mega Zip, Parkour and more, they were surprised by a Medieval themed dinner. For those who wanted to participate, it was a no-utensil meal. Music played in the background, crowns and jester hats were worn around the dining hall, and music from that time period filled the air. What a cool start to the KNIGHT?!?!?
Airy's Cohen Theater was our next venue, as we gathered for the Opening Show. We were moved by Toni and Jacob's dramatic reenactment from High School Musical 2; we laughed along with Outdoors, the Unit Leaders and the CITs; we rocked and danced with the staff band; and we learned about Airy's July musical, "James and the Giant Peach."
Just like the pizza bagels and curly fries at lunch, we partook in another Airy tradition – the Goodnight Song and s'mores. Dan and Ido, our song leaders, led camp in our first Goodnight for the summer. Perhaps they were inspired by the beautiful night, or maybe the new benches – WITH BACKS – at the theater, as our campers and staff sang and swayed so harmoniously. As we departed the theater, it was a very cool sight to see glow of fire pits illuminating Village Row – at the Pargman Pavilion, and in the quads near Bunks 28 and 21.
We are very much looking forward to our first full day on Monday.
Marty
[bq_color]
Today's Birthdays

Happy Un-Birthday to All!
[/bq_color]
    UNIT SPOTLIGHT – The CAs    


The Camp Airy CAs, rising 11th grade students, wasted no time in introducing themselves to camp. As the Welcome Show was drawing to a close, Marty was sitting solo on the stage steps. He was explaining to camp how we wrap up an evening – the Goodnight Song, followed by the Shema and then finally Taps. When he paused between sentences, we seized the opportunity. Quietly … wait, SO QUIETLY AND STEALTHILY… we scurried from our benches near the back of the theater to the front of the stage. Then, with precision, we took position on the stage step next to Marty, flanking him on both the right and the left. Our lonely director needed wingmen whether he knew it or not. We can't prove it, but after we took positions to either side of Marty, he might have even shed a tear of happiness. Marty finished his remarks, cued in Dan and Ido, and we sang as a camp. At then end, Marty said "Thank you CAs." Some of the guys think he was choked up. Classic camp awesomeness. Oh, and s'mores are yummy. We can't wait for Monday.
Stephen, CA Unit Leader
Today's Menu
[table "" not found /]
Today's Weather

High: 82°F | Low: 61°F
A perfectly gorgeous day to welcome in Summer 2019!