Louise Blog
Director's Blog – June 23, 2019
Welcome to Summer 2019!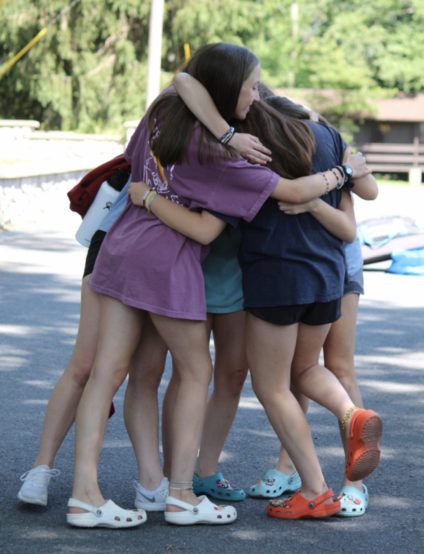 I am not sure if you have read or heard of the book Strong is the New Pretty, but if not – you definitely should check it out! It speaks so much to why we do what we do here at Camp Louise. The author/photographer Kate Parker has an amazing way of capturing girls being their true selves.
The book has 9 chapters that each depicts a different trait. Last night at our final campfire of Staff Orientation, we shared some of the pictures and quotes from the book with our staff and we asked them to think about the over 900 girls who will walk through the gates of Camp Louise this summer. We talked about the power that we all have this summer – the power of words, the power of body language, the power of connections, and the power of relationships.
We have a pretty remarkable opportunity this summer. Camp Louise is an incredibly special place where girls can learn, play and grow up. Every camper that walks through the gates has a voice. Some haven't discovered theirs yet. Some have mastered theirs…quite loudly. And some are testing out different ones. Each and every one of those voices deserves a chance, deserves respect, deserves support and deserves appreciation. Our responsibility to them is critical. We challenged the staff to be the one….
Be the one who celebrates.
Be the one who empowers.
Be the one who encourages.
Be the one who inspires each and every person they come into contact with this summer.
Show their campers the strength of being confident, wild, resilient, creative, determined, kind, fearless, joyful, and independent.
That is our mission and yes, it is possible!
Here's to a great summer 2019!
Alicia – Director, Camp Louise
[bq_color]
Today's Birthdays

Shayna – Bunk 1
[/bq_color]
Today's Menu
[table "" not found /]
    UNIT LEADER SPOTLIGHT     
Anna Koozmin
CIT Unit Leader
Our Counselors-In-Training, also known as CITs, might be the most excited campers at camp. They spent the morning welcoming campers, old and new, to Camp Louise for Opening Day. They are familiar with the mixture of nerves and excitement that they themselves have experienced over many summers. They had their own Opening Day excitement this past Friday when they arrived for their seven-week journey. After unpacking and reuniting with friends, they played icebreakers to meet the CITs who have been going to camp during the opposite sessions. They also participated in their very first training of the summer when they learned about how to safely work with campers. We brought in Shabbat with a quick Friday night service and Shabbat. The CITs attended a panel comprised of campers and their families to learn about how staff and CITs can make the summer the best it can be for all campers and families starting from the first day of camp. After the panel, the CITs participated in song session and the beloved Friday Night Folkdance. When the evening programming concluded, the CITs played some more games led by their counselors and also completed some teambuilding activities. Saturday morning was a busy day for the CITs. They learned how to raise the flag, which they will each assist with throughout the summer when the camp gathers for morning lineup. The CITs also sat through presentations from each of the Department Heads, so that they could have an idea of the types of responsibilities they would have when training in their selected department. In the evening, they attended the first campfire of the summer, complete with s'mores and singing. They all went to bed early so that they could be at their best, most enthusiastic selves while greeting campers this morning. Our camp would be incomplete without the spirit and leadership that our CITs exhibit and we are so lucky to have an amazing 35 CITs this summer!
Today's Weather

High: 80°F | Low: 62°F
We could not have ordered more perfect weather for the Opening Day of Summer 2019!  In addition to the amazing weather, this afternoon after activities our power went out due to a down tree outside of camp. The campers and staff were great. The kitchen staff grilled some hot dogs and hamburgers for dinner. We still had our Welcome Show. And now the power is back on!  What a memorable first night!