Airy Blog
Director's Blog – June 24, 2018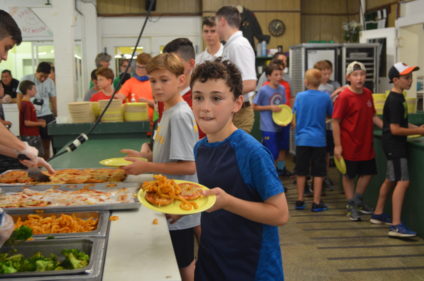 "Is there anything better than Opening Day?"
It's true in baseball, and it's true for camp too! I love baseball – when my team is good, when my team is not-so-good, at the stadium, on TV, etcetera. And I love camp – winter, spring, summer and fall. I love planning for camp and talking about camp, and of course camp swag! But there is an energy, an anticipation, an electric atmosphere on Opening Day. We advertise that families can arrive at 8:00 am, and without fail every summer, cars begin to line-up on the road closer to 7:00 am. The pace at which families walk uphill is quite impressive. There are hugs and handshakes and high-fives as old friends reunite. It is especially heartwarming to see campers seeking out their former counselors.
And then there is the first-day food. Campers have come to expect the standard – pizza bagels with curly fries and chocolate milk. CITs break into a rendition of the "Pizza Man" song, and the dining hall starts rocking. Just when the campers thought the fun was slowing down, the chocolate chip and sugar cookie platters arrived! Fulfilled and nourished, we were ready to take on the afternoon. Campers headed all around camp for activities and could see the newly resurfaced courts, as well as additions to Parkour and the skate park.
We even had our own version of a baseball rain delay. A pre-dinner summer shower sent us indoors for the rest period before dinner, but sunny skies returned and we wrapped up the evening at the Cohen Theater for the Welcome Show. We laughed (and groaned) at punny jokes, we cheered as the unit leaders performed a "Royal Rumble," and the Counselor Band closed the show with Toto's "Africa."
After we sang our "Goodnight Song," campers and staff headed back to bunks for some well-earned rest. And just like in baseball, where another game is just a few hours away, so is our first FULL day of camp.
Marty
Today's Birthdays
Phillip M.
Today's Menu
[table "" not found /]
Today's Airy Weather

High: 85°F | Low: 64°F
Simply gorgeous .. until a passing dinner time storm … and then gorgeous again!!