Louise Blog
Director's Blog – June 24, 2018
OPENING DAY – SUMMER 2018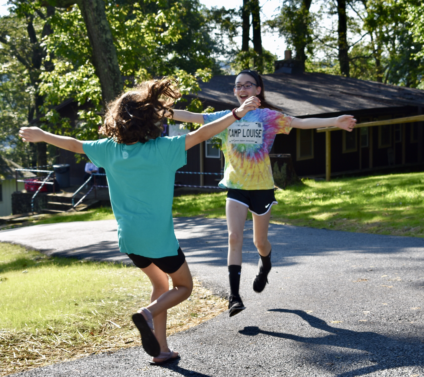 It is truly so hard to believe, but we have literally been preparing for this day since we left camp last August. We have hired staff, recruited campers, attended conferences, debriefed about last summer, gotten feedback from campers and staff about how to make summer 2018 even better than 2017, purchased new swag, built a new theater (wait until you see it if you haven't already), and so much more!
With a threat of rain, we woke up at the crack of dawn, crossed our fingers, put on our Camps Airy & Louise shirts and opened the gates because today was finally the day! The rain held off and it was an absolutely beautiful morning.
Campers ran up the hill ready to CRUISE INTO SUMMER 2018 – this year's camp theme! Some were a bit nervous, others were beyond thrilled. Some are first time campers that we proudly welcome to camp. Others are more seasoned veterans with 2, 5, 7, 9 years of Camp Louise experience behind them. And honestly it doesn't matter because now we are all a part of the Camp Louise family – a family that will experience awesome things together over the next 2, 4, or 7 weeks!
I cannot wait to see what is in store!
Alicia
Director, Camp Louise
[bq_color]
Today's Birthdays

Hannah – Bunk 36
[/bq_color]
Today's Menu
[table "" not found /]
Today's Weather

High: 83°F | Low: 61°F
We could not have asked for a better Opening Day!  The day was gorgeous.  We got through all of our activities this afternoon before some brief rain during dinner and then back to a great night!