Airy Blog
Director's Blog – June 24, 2019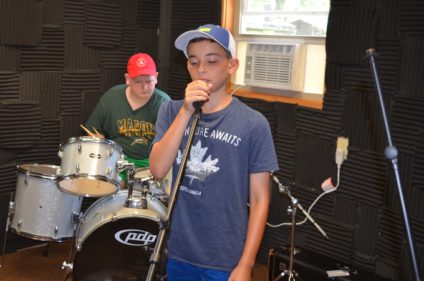 "Come Monday … "
…it'll be alright …wait, not just alright, but ALRIGHT because it's the first full day of the session. I was especially excited for our campers to try some of the the new offerings both up and downhill.
Pictured today is Airy's new recording studio, and two campers recording what is sure to be a masterpiece. Our multi-talented facilities staff worked throughout the off-season in the Music Pavilion and transformed a few closets and a seldom-used porch into a modern recording site. Studio, control room, meeting space, and space-age-looking sound proofing are some of the features. Our Music Department Head Ben has helped to usher Airy into a new music technology phase. Last summer we introduced digital music creation on iPads. For 2019, we are eager to hear what our campers and staff create. Airy's music department staff includes Ben, Sammy, Ofir, Bryce, Ido, Ewan, Kaiwen, Sam and Dan. Their talent and creativity are sure to be on display, and fun for campers is sure to follow. Some of our favorite camp programs include camper and staff bands / musicians rocking and rolling for the crowd.
The developments in Airy music are representative of the kinds of tweaks we look for each summer at camp: a stage and set revamp in Drama; a new sound system for the Theater; an outdoor extension of Parkour; a new BMX pump track; STEM opportunities through an Israeli program called "Big Idea;" and more specialists and coaches in all kinds of activity areas. We also built a REALLY big chair which greets people as they reach the top of the hill.
I'll leave you with some v-AIRY campy thoughts from another part of Jimmy Buffet's "Come Monday" that you can use in your next letter:
I hope you're enjoyin' the scenery,
I know that it's pretty up there.
We can go hikin on Tuesday,
With you I'd walk anywhere.
So long until the next blog,
Marty
[bq_color]
Today's Birthdays

Happy Un-Birthday to All!
[/bq_color]
    UNIT SPOTLIGHT – Unit A    

So, you thought you dropped your Son off at Camp Airy, Thurmont MD. Well, I can confirm that you actually dropped your son off at Camp Airy, Honolulu HI. This summer, Unit A is taking a Hawaiian vacation and living it up in sunny paradise on the mountains! (The weather really has been cooperating!) To start our first full day as a Unit, we have taken over the entirety of Camp with the dress code "Maui Monday" – where Campers and Counsellors wear Hawaiian clothing to honor the awesomeness of Unit A. Fellow Unit Leader, David Yule, said "I've been to Hawaii and it's nothing compared to Unit A's version." Assistant Director Jason Creeger asked if he could join our Hawaiian Vacation … we told him to join the waiting list. However, we may allow him to join our first Luau of the Summer, this week.
Levi, Unit A Unit Leader
Today's Menu
[table "" not found /]
Today's Weather

High: 86°F | Low: 71°F
A nice day until some string afternoon showers. Our streak of no-rain-days ended at one.