Louise Blog
Director's Blog – June 24, 2019
Minute To Win It – Camp Style!
Tonight campers and staff got to participate in a very popular evening activity – a game show by Neil (our Director of Operations who also happens to be my husband)! Each bunk had a representative come up to the stage and compete in crazy competitions, including:
Nose Dive – where campers put a dab of Vaseline on their noses and then had to pick up cotton balls (with their nose) and deposit them into a bowl
Paper Dragon – where campers had to unravel streamers as quickly as they could
Egg Roll – where campers used the wind created by waving a pizza box to move an egg….although in our case smash an egg…or two….OOPS!
The game pictured here was the Chocolate Unicorn where campers piled a tower of Ding Dongs on their foreheads.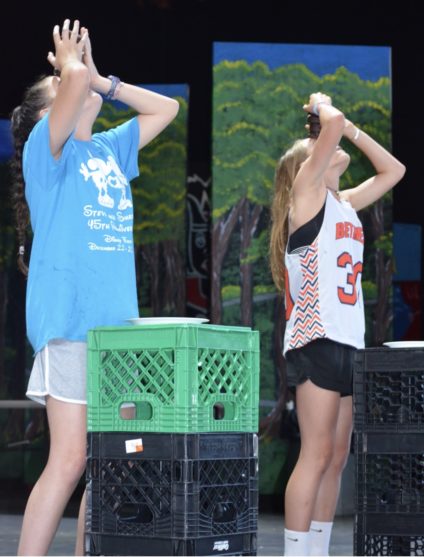 Staff got to play too! Some of their games included:
Bobble Head – where staff wore pedometers on their heads and had to bob their head up and down to see who got the most bobbles
Face the Cookie – where staff had to start with a cookie (or in one case a rice cake for a gluten free staff member) on their foreheads and without using their hands, wiggle it down to their mouths
As you can just imagine, it was a night full of laughter and cheering on bunkmates and counselors. No social media, no cell phones, no worrying about online likes – just genuine, spirited, scream out loud fun! And that's what camp is all about!
Alicia 
[bq_color]
Today's Birthdays

Hannah – Bunk 5

Lindsey – CIT
[/bq_color]
UNIT SPOTLIGHT – UNIT C 

Today was an incredible day of firsts for Unit C and Camp Louise! From our first inspection score to our first free swim, today set the precedent for a summer of monumental memories and fun. We're looking forward to Unit Night in just a few days!
The excitement of the first day of activities is tangible, audible, and simply unbeatable! As I was headed uphill to score Unit C's squeaky clean bunks for inspection, I smiled while overhearing songs coming from Solarium, dancing footsteps coming from Social Hall, and laughter coming from Pottery.
Izzy Abraham, Unit Leader – C
Today's Menu
[table "" not found /]
Today's Weather

High: 83°F | Low: 67°F
Another truly beautiful day at camp!