Louise Blog
Director's Blog – June 25, 2015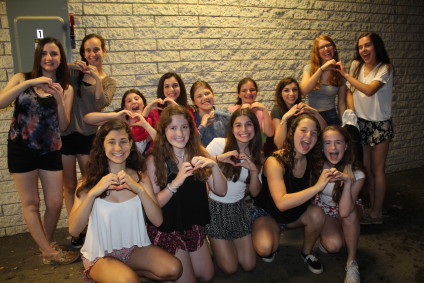 A group becomes a community when its members care for each other without being told to do so.
Today, I watched some campers become a community in a most remarkable way. The girls of Bunk 14 (pictured above), having just finished a great game of speed ball on Field 2, noticed their buddy bunk running some challenging laps for Run Louise Run. Instead of moving on to another game or spending the end of the period just hanging out, Bunk 14 became Bunk 28's impromptu cheering squad. They clapped, they encouraged, they motivated and congratulated as each girl crossed the finish line exhausted. You could hear the chants of "You gotta high 5 to get by, to get by!" all across the field. When the last runner from Bunk 28 came into view, they didn't just cheer. Bunk 14 ran out en masse to where she was and escorted her to the end.
Bunk 14 is made up of rising 9th graders and Bunk 28 is rising 6th graders. Outside of camp, girls these ages probably wouldn't be hanging out together. They might pass in the hallways of school but their lives probably wouldn't intersect beyond that.
Here at camp, they happened to be paired up for Buddy Bunk activities last night and now they care about each other's success. Bunk 14 didn't stop cheering until every girl crossed the finish line. Bunk 28 didn't stop running because they felt the love.
Here at camp, we love watching a group become a community. It's what we are all about! Wouldn't it be great to carry on these traditions into our "real lives" outside of camp?!
Alicia
Today's Birthdays

Amy J. – Counselor, Bunk 29
[/bq_color]
Today's Menu
[table "" not found /]
Today's Weather

High: 85°F | Low: 65°F
It was a great day here at camp.  There was just a little sprinkle of rain during the day, but that didn't keep us from a full day of activities.  Tonight, the rain continued but Camp Airy still made it over for a night of dancing, games, snacks, and mingling!