Airy Blog
Director's Blog – June 25, 2017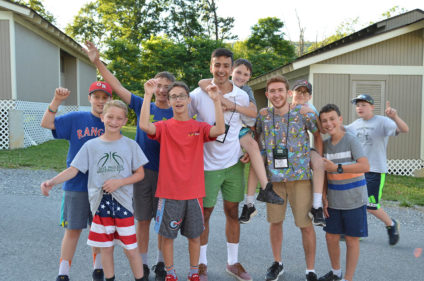 What's Your Story?
It's finally here, the first day of camp for Summer 2017! And the question we'll be asking most is "What's your story?" The staff of Camps Airy and Louise just finished orientation, and throughout the week (or more for some) we looked below the surface. Through games, presentations and discussion, we talked about how each of us comes to camp with a different story. We shared many laughs as a staff playing "Two Truths and a Lie," and our hearts were encouraged as we listened to staff tell their own "Camp story."
How will this happen? The basic formula remains the same – old friends and new, staff from all over the globe, long standing tradition and cutting-edge (literally) activities. Take a peek inside Airy's Downhill Social Hall, affectionately known as the "DISH" for decades. It has been transformed into a parkour gym, and right away on this first day of camp our own "AmAIRYcan Ninja Warriors" began training.
Take a look at the campfire sight behind Village Row. For the older generation, I'm referring to the one you remember behind Bunks 14 and 15. You would barely recognize the scene – cleared, leveled, new benches and firepit, lights and sound. What a wonderful location for s'mores, campfires, and Shabbat services. Guess where we were after tonight's opening night show?
And of course, Airy's has its people.
We all followed different paths to get to camp. Through the shared experience of Summer 2017, we will each add to our story – and each other's.
Marty
Today's Birthdays
Josh S.
Today's Menu
[table "" not found /]
Today's Weather

High: 80°F | Low: 56°F
Clear and Sunny