Airy Blog
Director's Blog – June 25, 2018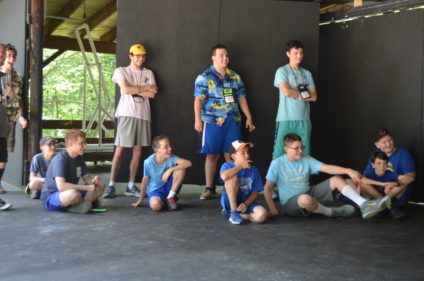 "You CAN make this stuff up …"
… because today were auditions for the Airy and Louise musicals. Reading lines, singing and improvisation were all part of the process. Airy drama staff members Cody, TK, Jordan, Gerry and Josh watched as thespian hopefuls strutted their stuff for parts in "Little Shop of Horrors" and "Into the Woods."
We are proud of the arts programming we have at Airy – Drama, AV Tech, Music, Multimedia and Digital Media, Culinary, Fun Factory and Creative Arts. Along with the activities in camp that allow campers to pursue athletic and adventurous pathways, our arts departments all allow campers to express their inner creative genius.
Throughout the summer, Airy will host several professional artists who will share their skills and their stories with campers. Knowing that time spent by campers in our various arts departments, as well as with the visiting artists, might possibly spur a new passion is exciting. In so many ways, camp is the best place to try something new, or dive in deeper to an area of interest.
We are looking forward to seeing the two shows in just a few weeks. It's super-cool that our trips to Camp Louise will be our first time seeing the brand new theatre, Jill's Place.
Marty
Today's Birthdays
Josh S.
Cristian – staff
Today's Menu
[table "" not found /]
Today's Airy Weather

High: 79°F | Low: 55°F
Sunny as can be!