Airy Blog
Director's Blog – June 25, 2019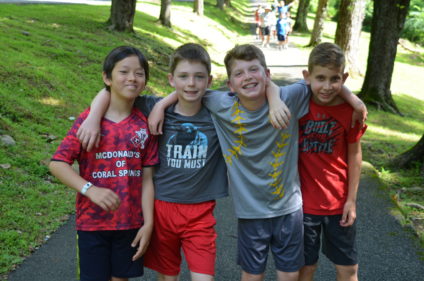 "I BEEN HANGING AROUND …"
Camp Airy is The Hill, and the The Hill is Camp Airy. When our photographer Debbie shared this picture, two things jumped to mind right away – today's song by Counting Crows, and a strong personal connection to the feeling a camper or staff member feels when navigating The Hill with friends.
For blog readers who are new to the Airy family, you may be wondering "What's the story with The Hill?" Camp Airy has always had two main zones of activity. Simply stated, we live and eat UPHILL, and we run around and swim and play DOWNHILL. Every camper who has come through camp's gate since the summer of 1924 has had the same experience. Two or three times a day, every day, this shared experience naturally becomes a walk-and-talk. These talks are, and I venture to say have always been, relationship creators.
I try to walk down and up The Hill at least once a day. I am overwhelmed, but not surprised, at how friendly and inquisitive everyone is. "What's up?" "How's your day?" "What's for lunch?" "When are you building a ski lift?" Counselors are playing music that rings out from portable speakers in their back packs. Campers are proudly describing the cake they made in Culinairy, and reliving the thrills from a ride on MegaZip. There are groups challenging themselves to ascend The Hill faster than they did the last time. And our stragglers are never left behind. Our staff and campers seem to always sense when someone needs a walking buddy. The walk down The Hill leads you to a spectacular view and to some many activities and adventures. The walk up The Hill provides time for reflection, and also anticipation of getting back "home" to the bunk.
If The Hill could talk, can you imagine the stories it would share?
We know that at camp, the people you meet become the reasons you return summer after summer. The Hill has a lot to do with that.
So long until the next blog,
Marty
Today's Birthdays

Josh S. – STs
Cristian – Facilities Staff
    UNIT SPOTLIGHT – Unit B    

Welcome to Unit B, where we've been keeping busy the last few days traveling time and exploring space. As our theme is "Unit B is going Back to the Future," we have been showing our campers the ropes of time travel! To finish the evening off tonight, every camper in the unit designed and built their own futuristic rocket to help launch our unit into the future! Dom, a senior camp unit leader, has been trying to time travel to see what cool new things will be coming to camp in the future. He says "After 5 years walking the hill, I've want to travel to the year when camp FINALLY installs the much anticipated and promised SKI LIFT!." As I look into the future this week, I see all of our Camp Airy campers having an amazing summer that will be full of great memories!
Tyler, Unit B Unit Leader
Today's Menu
Breakfast , Lunch , Dinner
Cereal | Fruit | Yogurt | Scrambled Eggs | Waffles , Chicken Sandwiches | Waffle Fries | Cole Slaw | Salad Bar | Pasta Bar | Icees , Spaghetti and Meatballs | Mixed Vegetables | Garlic Bread | Salad Bar | Pasta Bar
Today's Weather

High: 84°F | Low: 63°F
Partly-to-mostly sunny all day long!