Louise Blog
Director's Blog – June 25, 2019
ODL AND OTHER CAMP LINGO…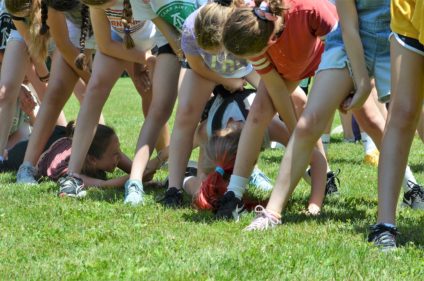 There are many acronyms, nicknames and essentially our own camp language here at Camp Louise. STs, CAs, CITS, Hot Stuff, Pic Pav and so many more! Another one is ODL – just three little letters but they mean so, so much!
ODL is our Outdoors Department at Louise. This group of fantastic women work tirelessly every day to give our campers an amazing outdoor experience. There is a lot under the umbrella of this department. They run our very popular Adventure Park (multi-level, self-guided obstacle course), as well as our incredible ropes course. They take campers on out-of-camp trips, including one night camping trips and 3-day survival trips. I always enjoy the smells coming from the outdoor cooking workshops they offer! You can also find ODL with our Junior Camp (grades 2-6) bunks out in the woods experiencing NUTS – more camp lingo. NUTS stands for Night Under The Stars. We like to give a taste of camping to our younger campers.
Whatever ODL is doing around camp – swinging from the trees, camping out, or cooking at a fire, team building is always a goal. They are constantly thinking up icebreaker games to play to help campers get to know each other – whether it is for the first time or helping them build deeper connections with people they already know. There is always a lot of laughter and cheering each other on as they work together with their bunk or unit.
Ellen, our amazing ODL Department Head sums it up best – "ODL is so excited to offer campers the opportunity to do activities that they don't do at home. We are so proud when we see the smiles on their faces as they conquer their fears, reach new heights, and enjoy exploring the great outdoors!"
Alicia 
Today's Birthdays

Haley – ST
UNIT SPOTLIGHT – UNIT F

After the evening activity, Unit F spent time getting to know each other! We did a speed dating game so that every camper was able to meet girls from different bunks in the unit. The counselors also told all of the campers 2 truths and 1 lie. Then, the girls had to guess which statement was the lie! It was so exciting to see numerous friendships forming across the unit. I know that giving the campers the opportunity to get to know girls in different bunks will make this summer even better! Looking forward to doing more fun activities tomorrow at Unit Night! 
Alyssa, Unit Leader – F
Today's Menu
Breakfast, Lunch, Dinner
Waffles | Strawberries | Scrambled Eggs | Oranges, Camp-Fil-A Lunch | Grilled and Crispy Chicken Sandwiches | Lettuce Tomato Onion | Pickles | Cole Slaw | Waffle Fries | Salad Bar | Pasta Bar, Pizza | Sauteed Veggies | Caesar Salad | Zucchini Fries | Salad Bar | Pasta Bar
Today's Weather

High: 81°F | Low: 61°F
Another truly beautiful day at camp!