Airy Blog
Director's Blog – June 26, 2017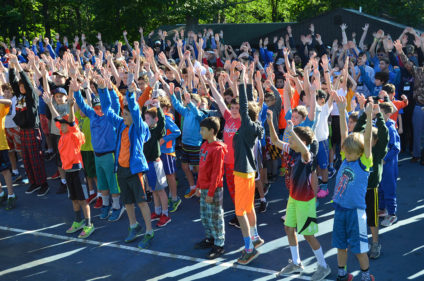 Raise Your Hand if You're Already Having Fun
At 8:23 am on the first full day of camp, our campers and staff all agreed – Camp Airy is the place to be. Mondays have become known for "Mazeh Monday," a line-up presentation given by our Airy shlichim. Shai led us in stretches, and Eden (or maybe we should say "Word Woman") taught us the Hebrew words for "head" and "heart."
Line-ups at camp are one of our most fun traditions. It is a time where the whole camp comes together for energizing. We raise the American, Israeli and Airy flags. We say the Pledge of Allegiance. Each day, a different staff group leads the days frivolity. Besides the shlichim on Monday, we have had "Neon Tuesday" competing with "Tie Dye Tuesday." It's always unpredictable when the Outdoors staff takes the stage on a Friday.
The Wheel of Birthdays comes out to celebrate campers a few times each week, and then we wrap up with Hamotzi. I pick a few campers to lead us – and they have the perk of sharing a Pop Tart. Then, it's off to breakfast.
I fondly recall my own line-up memories. We used to gather on the old Bunk Row basketball court. The court was slanted, and there were bunk numbers on the ground that marked where we sat. There was a green painted concrete flag pole area where the Bunk Row unit leaders stood. Finally, in 1994, I got to stand there as a Unit Leader for Unit F.
Now 20+ years later, the podium is wooden and the court is flat – and blue!
Marty
Today's Birthdays
Jared C.
Today's Menu
[table "" not found /]
Today's Weather

High: 81°F | Low: 59°F
Clear and Sunny – another beautiful day