Louise Blog
Director's Blog – June 26, 2017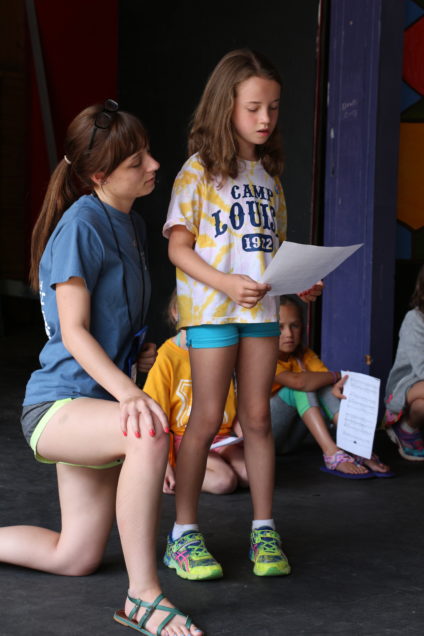 Musical Auditions – Take One!
Every day our amazing photographers scan the hundreds and hundreds of pictures that they take to find one that tells a story. They send me some to choose from and I see which one speaks to me. Today, the photographers and I kept coming back to this one. I wasn't sure whether or not to use it. I try very hard to ensure that my three daughters have a regular camp experience as regular campers – not as the camp director's daughters. I have never used a picture of one of them in my blog, but today – I cannot resist.
This afternoon, we held auditions for our big musical of the session – Bye Bye Birdie. I approached Sophie, our Drama Department Head, to ask her about how the auditions went. She explained the process which included some acting and singing. The campers were taught a song to first sing in small groups. They were then asked to sing individually. Well, this camper was fine singing in a group, but was a little hesitant to sing by herself. One of the drama counselors saw this as a coaching moment. She asked the camper if she could sing with her. The counselor's calming presence provided the necessary encouragement. You can see it in the picture. As the camper's confidence grew, she finished the song as a solo. Just in that one moment – that counselor gave that camper, my daughter, a gift…a gift that she will take with her as she encounters other challenging moments.
In further discussion, Sophie explained that her goal is to have every cast member have the confidence, comfort and support to work together to put on a show that they will be proud to perform for both Camps Airy & Louise – while having fun along the way. Sophie, you are well on your way to meeting your goal for our campers. As the director and as a mom, I thank you!
Alicia
[bq_color]
Today's Birthdays

Lucy – Bunk 17
Sam P – Staff
[/bq_color]
Today's Menu
[table "" not found /]
Today's Weather

High: 75°F | Low: 55°F
A nice cool morning flag followed by a gorgeous, sunny day!