Louise Blog
Director's Blog – June 27, 2015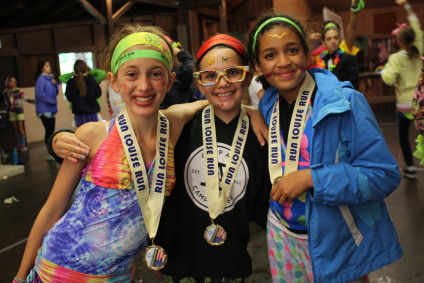 This week, our Junior Camp campers participated in our Run Louise Run program. In activities, they have been learning about the importance of practicing healthy habits, everything from drinking water, eating well-balanced meals, getting enough sleep, flossing and brushing, and washing hands to bigger things like respecting yourself, taking responsibility for your own actions, being open-minded, encouraging others, taking quiet time for yourself, and being your own cheerleader.
In addition, the campers trained all week to do a one mile run and obstacle course. Today's rain certainly did not dampen their spirits. Junior Camp gathered in Social Hall and participated in jump rope and hula hoop relays, folkdancing, creative choreography, drumming workshop, Camp Louise Pictionary, and other fun activities. Each camper received a real race finishing medal for all of their hard work this week. There was a huge sense of accomplishment felt by our campers.
During today's activities, the trainees were right with their little bunks – cheering them on and participating right with them. The STs (rising 10th graders) helped run the activities for Run Louise Run.
Our Junior Campers learned a lot in this program! What a great way to celebrate our first Shabbat at camp and to reflect on all we have accomplished this week!
[bq_color]
Today's Birthdays

Kendall – Bunk 31
Josie – Bunk 17
Rachel Y. – Counselor
[/bq_color]
Today's Weather

A wet day here at camp, but the Shabbat spirit was thriving across the mountain!
Alicia Berlin
Director