Louise Blog
Director's Blog – June 27, 2017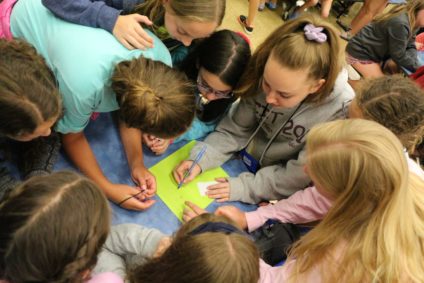 TRIVIA NIGHT
So, it started several months ago when three moms decided to test out a local Trivia Night to see if we wanted to do something similar at our children's school as a social event. After a little research, we ventured out to participate in our very first Trivia Night. As soon as we walked into the restaurant, we (three educated women) knew that we were a little out of our league. The teams that were already there were serious. They had players from all different backgrounds with all different knowledge strategically put together in order to maximize the number of correct answers in a variety of categories. They also had team names – serious team names. And then there we were – three moms out on a school night.
Although we did come in last place, we had a blast and even won a bonus question – totally by accident but nevertheless. It was a fun night which led to a very successful social event at school which then led to the idea of doing Trivia Night at camp. We have always done Game Shows at camp – Family Feud, Newlywed Game, Minute to Win It, but this was different. This encouraged involvement from the whole group. Every single person was involved.
We gathered in the Dining Hall, sat by bunks, came up with team names and answered questions – some silly, some serious. Music was playing, campers and staff were dancing, and a good time was most definitely had by all.
Let's see how you do…Give it a try…
In front of which bunk are the "Steps to Nowhere" located?
Which fruit is the most popular and most consumed on the planet?
Name this television theme song (in your head, imagine the theme songs to Survivor, Liv & Maddie, and America's Got Talent) – although I guess I just gave away the answers to these!
Who was the first Disney Princess?
And… the final question of the evening, where bunks had to wager points Jeopardy-style to win or lose was called: Do the math!
((Add the numbers that compose the 5-digit zip code for Camp + the numbers that compose the year camp started) – the # of chairs around Alicia's table) * the # of Unit Leaders / the # of Division Heads
How did you do????
Bragging rights went to bunk #13 (along with a special ice cream treat) for being the winner! And everyone is already asking when the next Trivia Night is…
Alicia
[bq_color]
Today's Birthdays

Kendall – Bunk 15
Nicole – Counselor
Yarsky – Multimedia Department Head
[/bq_color]
Today's Menu
[table "" not found /]
Today's Weather

High: 74°F | Low: 53°F – Another truly gorgeous sweatshirt kind of day!