Airy Blog, Louise Blog
Directors' Blog – June 27, 2018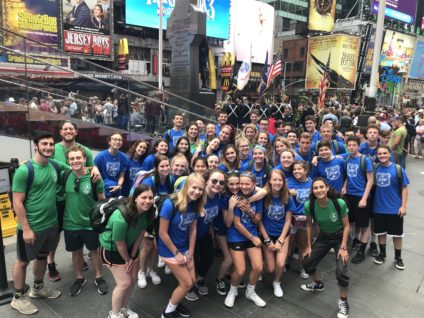 Today's guest blogger – the Director of Operations for Camps Airy & Louise, Neil Berlin
Live from New York…it's Camps Airy & Louise!
Early Wednesday morning, approximately 100 campers and staff from both Camp Airy and Camp Louise left on a journey to New York City. After a long ride (on an air conditioned coach bus), we arrived in NYC.
The Summer of 2018 marks the 11th year of this add-on trip, offered to rising 7th graders and above. We have many programs in and out of camp to emphasize our activity areas: we go rock climbing and do survival trips to enhance our Outdoors program. We compete with other camps to enhance our Athletics program. For performing arts (drama, dance, etc.), we introduced the optional NYC Trip.
When we arrived in NYC today, campers divided into their small groups with their staff member and walked around the Times Square area. During their time walking, some ventured into the Rockefeller Center area, including some walking through the Diamond District (it doesn't sound like anything was bought with their spending money from the trip!) Campers "shmied" around the many stores, going into Forever 21, the NBA Store, the NHL store (closing tomorrow), and many others. Some campers ate their way through the City as well – visiting Starbucks, Jamba Juice, and grabbing a slice of authentic NYC pizza.
After their touring time, campers met up to see a Broadway musical. Everyone today saw Mean Girls the Musical. Future trips this summer will be to see either Mean Girls or Spongebob Squarepants.
I am told every year that our campers are amongst the best behaved camp groups that the theaters host – and this year did not disappoint. Campers were attentive and thoroughly enjoyed the show. Several remarked that the show was "Fetch," although others said they should stop trying to make Fetch happen.
After a little more time in NYC, we left for a diner in New Jersey where we enjoyed dinner before heading back to camp. The trip is a long day – but campers love having this experience in the arts – and enjoying NYC with counselors.
Thank you to all families who chose to send their campers on this trip (or our future trips) – they had a blast today! And for those who didn't choose to go on the trip – plenty of great camp activities happened today at Airy and Louise! Since we run the trip multiple times across the summer, we don't need to take all participants on one trip – so it doesn't feel like "everyone" is gone – a normal camp day for everyone else!
After this, my 27th trip to NYC with Camp, it's time for bed! Laila Tov, Camps Airy & Louise!
Neil
Today's Birthdays
Airy:
Spencer
Ezra
Ian
Debbie – staff
Louise:
Eloise
Kendall
Nicole – staff
Yarsky – staff
Today's Menu – Airy
[table "" not found /]
Today's Menu – Louise
[table "" not found /]
Today's Airy Weather

High: 75°F | Low: 70°F
Cooler and wetter, at times … we'll take it.
Today's Louise Weather

High: 75°F | Low: 69°F
Rainy on and off this morning, but that can't stop the camp fun!