Airy Blog, Louise Blog
Directors' Blog – June 27, 2019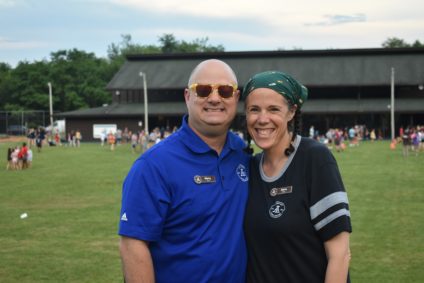 Tonight was the first Airy-Louise dance of Summer 2019. All of our campers and staff gathered at Camp Airy for a dance, games, snacks and fireworks. As we walked around the gym and surrounding fields, it was wonderful to hear happy conversations taking place between friends, siblings, cousins, staff, etc. We want to share with you some of our favorites:
I learned to dance while growing up in California in a place called San Fran-disco.
That line dance was supposed to start on "three," but it kept getting held up- "one, tu-tu…"
Tonight's dance was not a joke even though there was a big punch line.
The Camp Louise farm likes dancing quite a bit … all sheep do is tell baaaaa-lerina stories.
The Culinairy and Cookery staff were really enjoying the dance – they repeatedly said "lettuce turnip the beet."
The staff was being proactive in moving all fragile items – they heard there would be break dancing.
And let's not forget the the colorful fireworks – they really blue us away.
Many thanks to the staff who made the evening possible – set-up, break-down, clean-up, the concessions and water team. You all are DYNOMITE!
So long until the next blog,
Marty and Alcia
Today's Airy Birthdays

Spencer
Ezra

Today's Louise Birthdays

Kendall – CA
Sydney – CIT
Today's Airy Menu
Breakfast , Lunch , Dinner
Pancakes – plain and blueberry | Scrambled Eggs | Cereal | Fruit | Yogurt , Potato Bar | Mac and Cheese | Veggie Chili | Broccoli | Salad Bar | Pasta Bar | Ice Cream Sandwiches , Pizza | Sautéed Veggies | Caesar Salad Salad Bar | Pasta Bar
Today's Louise Menu
Breakfast , Lunch , Dinner
Pancakes | Scrambled Eggs | Fruit Salad | Berries , Beef and Chicken Fajitas | Tortillas | Texas Toast | Peppers and Onions | Salsa | Rice | Bean and Corn Salad | Salad Bar | Pasta Bar , Spaghetti and Meatballs | Breadsticks | Squash and Zucchini | Broccoli and Cauliflower | Salad Bar | Pasta Bar
Today's Airy-Louise Weather

High: 91°F | Low: 71°F
Hotter and partly-to-mostly sunny all day long at both Airy and Louise