Airy Blog
Director's Blog – June 27, 2016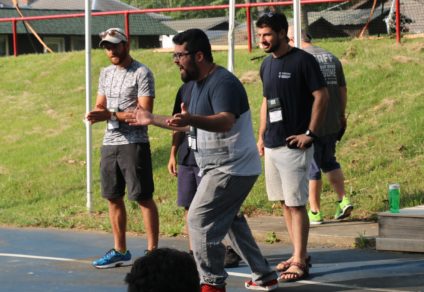 Happy Mazeh Monday! Today, our Israeli shlichim led morning lineup and immediately energized us with a "Boker Tov" song. Then, the lyrics gave way to comedy, as the quartet of Matan, Omer, Yuval and Omri (Omri hiding behind Omer's beard) entertained us with a skit about "deshe" (grass). It was less than moo-ving … get it? Grass? Moo …? Let's mooove on.
This Mazeh Monday was special in another way, as it was the first day in camp for our new campers from Ashkelon in Israel – Ron, Gal, Ron, Sahar and Noam. These campers will be with us for the first 2-week session. Asheklon is the sister city of Baltimore.
We capped off the day – after enduring a mid-afternoon rain soaking – with our first camp evening of Division Rotations. All of our junior division campers participated in Electives of their choosing – board games, 3-on-3 basketball, a drum circle, a multimedia scavenger hunt, and much more! Campers in the Senior had time in Extreme Sports – Go Karts, Skate Park, Scooters, and some old favorites like Dodgeball and Knockout thrown in. Our trainees did Outdoor Adventure – MegaZip, Scissors Tower, Survival, Cooking, and Fire Building. These rotations will occur throughout the summer. Special thanks to our department heads and scheduling team for making it all happen!
It is a great feeling to be in a community where we can provide for our campers experiences that they won't find at home – a bunk with bunkmate from Israel or a counselor from half-way around the world; or playing a djembe drum and cruising down a zip line in the same day; or having swim instruction and culin-airy training just a few hours apart.
And that was just the first day – we've got some great things coming as summer moves along. I look forward to sharing the stories in this blog space every day.
Marty
Today's Birthdays
Spencer A.
Ian G.
Today's Menu
[table "" not found /]
Today's Weather

High: 84°F | Low: 66°F

A magnificent "Mazeh Monday" with a brief rain around lunch time and the early afternoon.