Airy Blog, Louise Blog
Directors' Blog – June 28, 2018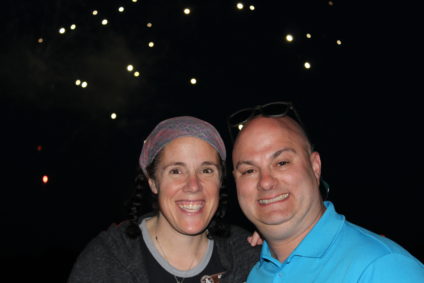 ""So you think you can dance?"
Like many other sister-brother relationships, Camp Louise and Camp Airy truly love one another … and are competitive about LOTs of things. Tonight, we were talking about the Airy-Louise dance. The conversation began innocently enough: "Aren't these freeze pops sweet and delicious?" "Isn't this popcorn the perfect combination of salty and crunchy?" "This cotton candy really hits the spot."
This conversation took place as campers and staff played Bar Mitzvah games led by DJ Josh and Emcee Nino. There were also field games to play – cornhole, 9-square-in-the-air, Ramp Ball and Paddle Zlamm.
It's unclear who made the first comment, but the exchange went something like this:
"It was a marvelous night for a moondance."
"The kids wanted to 'dance the night away.'"
"Later on, we were 'dancing in the dark.'"
"The kids were 'dancing on the ceiling.'"
"No, they were 'slow dancing, swaying to the music.'"
"Watching them, I thought 'you make me feel like dancing.'"
"I can't dance."
"Can you 'evacuate the dance floor?'"
Banter aside, this night was all about fun and fireworks. If you see the picture of us in this blog, you can catch a glimpse of the fireworks in the background.
Lots of fun was had by all.
Marty and Alicia
Today's Birthdays
Airy – none … Happy Unbirthday to All!
Louise:
Sara
Mary – staff
Corey – staff
Today's Menu – Airy
[table "" not found /]
Today's Menu – Louise
[table "" not found /]
Today's Airy Weather

High: 86°F | Low: 67°F
Sunny and warm … and a perfect, clear, evening sky for fireworks!

Today's Louise Weather

High: 86°F | Low: 68°F
A truly lovely day – the sun popped in and out and the mountain breeze made for a great day at camp!