Airy Blog
Director's Blog – June 29, 2015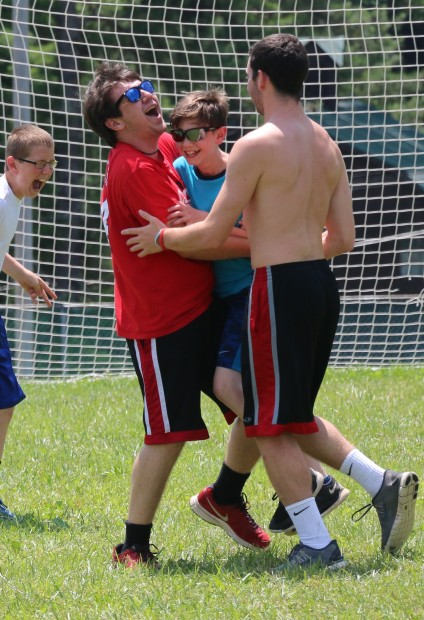 Let's all play the new game that's sweeping the camp … it's time for "Write a Caption."
I'll set the scene – it's an activity downhill at Airy. The sun is shining for a second consecutive day after the fierce rains of the weekend. Campers and counselors alike are laughing and enjoying the moment,
Caption 1: "The Airy soccer  squad rejoices after scoring the go-ahead goal against long time rival Camp David.  Airy walked away with a 2-1 nail biting victory. The opponent, frustrated by the defeat, got back in their helicopter and flew home."
Caption 2: "The Airy drama department took time yesterday to teach the art of soccer celebration. The current fervor sweeping the nation … the USWNT … has captured their hearts and minds. Not pictured here are the group's noble – but failed – attempts at celebratory back flips and body surfing across he turf."
Caption 3: "Camp Airy staff and campers take time out of their day to celebrate national 'Hug Holiday Day' and 'Camera Day.' What could be a better way to commemorate the two than sharing a hug that's photo worthy! This group is still trying to figure out how to celebrate a June 30 holiday – 'Asteroid Day.' That'll be out of this world!"
One of the greatest parts of camp is always having a reason to smile and celebrate. At camp we celebrate the ordinary and the extraordinary with the same zeal and zest. High-fives, handshakes, and hugs are all commonplace. We have morning dance parties on the way to Period 1. Mondays are great because our Israeli staff provide line-up laughs. And when pizza bagels are on the menu, look out!
Whatever the fellas in the pictures were celebrating, rest assured it was extraordin-AIRY.
Today's Birthdays

None
Today's Menu
[table "" not found /]
Today's Weather

High: 82°F | Low: 54°F
Cool in the AM before breakfast, and then a warm sunny day after that.
Marty Rochlin
Director