Airy Blog, Louise Blog
Director's Blog – June 29, 2017
DINO-FEST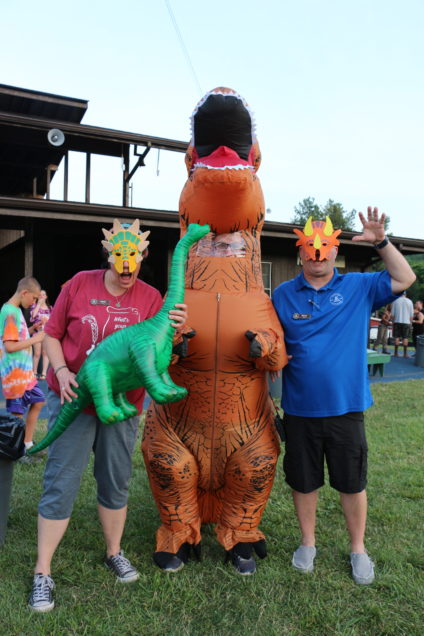 ALICIA:  So good 2 C U tonight at the DINOmite Airy carnival!
MARTY:  It was so much fun and I laughed so hard, my throat is feeling SAURUS.
ALICIA:  I loved the TRICERATOPS costume.  We need to get one of those at Camp Louise!
MARTY:  And we'll get the TRICERA-BOTTOM one at Camp Airy!
ALICIA:  Did you see the campers playing bubble ball soccer on the field?
MARTY:  I saw them DINO-SCORE!
ALICIA:  The snacks they served were delicious.  Did you have any?
MARTY:  I really could have gone for a DINO-S'MORE!
ALICIA:  Everyone seemed to really enjoy the fireworks.
MARTY:  They were definitely DINO-MITE!
ALICIA:  By the end of the night, everyone was exhausted from all the fun.
MARTY:  I'm probably going to DINO-SNORE tonight in my sleep!
ALICIA:  You know what animal is cousin to the dinosaur?
MARTY:  See you later, alligator!!!
Today's Birthdays
Meredith – CIT
Nadine – Staff
Today's Menu
[table "" not found /]
Today's Weather

High: 88°F | Low: 67°F
Sunny and warm!