Louise Blog
Director's Blog – June 29, 2019
AHHHH…..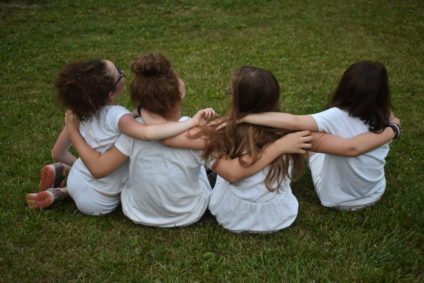 Every day, we are busy, busy, busy – even here at camp! Waking up in the morning, getting to flag, having breakfast, cleaning the bunk, going to activities, getting to lunch, back to the bunk for showers, dinner, evening activity. So much to do! The days run into each other. It's hard to remember the date, let alone what day it is. But there is one time during the week that this is different….and it's Shabbat.
We change into our whites on Friday night, we let out our Shabbat screams before heading to services and we get to literally breathe and enjoy this special time. We come together as a big community and we celebrate. We celebrate the end of the week and the start of a new week. We sing at song session and we folkdance with our bunkmates and other friends we have met at camp.
Saturday morning is more leisurely. We have optional pajama breakfast in the morning, followed by (not optional) Shabbat services in our whites. We sing and reflect as we sit with our friends in Solarium.
Shabbat is such a special time at camp. And it is the only day of the week that we can pretty much guarantee – you will know is different.
We hope that on this Shabbat you take some time to notice the difference. Do something for YOU! Because tomorrow, it's back to busy camp life – which we love….just in a different way.
Until tomorrow….
Alicia
Today's Birthdays

Emma – Bunk 1

Alex – Bunk 1

Siena – Bunk 34

Meredith – Staff, ST Counselor

Nadine – Staff, Copper Specialist
UNIT SPOTLIGHT – Unit A

I had a great day with a couple Unit A bunks at the Adventure Park this morning! Most girls were very excited to complete level one and zip across the zip line, but others were feeling more hesitant. One such camper had reached the platform before the zip line but was feeling too scared to finish. The outdoors and Unit A counselors and I tried to encourage her across, but she was not convinced. Finally, with both bunks of campers cheering her on, she let go and soared across the field! Her response after: "I want to do that again!"
Morgan, Unit Leader – A
Today's Menu
Breakfast, Lunch, Dinner
Scrambled Eggs | Mini Bagels | Berries, Make Your Own Sandwiches | Assorted Deli | Hummus | Chips | Lettuce Tomato Onion Pickles | Salad Bar | Pasta Bar, Hamburgers | Hot Dogs | Corn on the Cob | Potato Salad | Cucumber Salad | Salad Bar | Pasta Bar
Today's Weather

High: 86°F | Low: 66°F
Sunny day with a brief afternoon summer rain!