Airy Blog
Director's Blog – June 30, 2016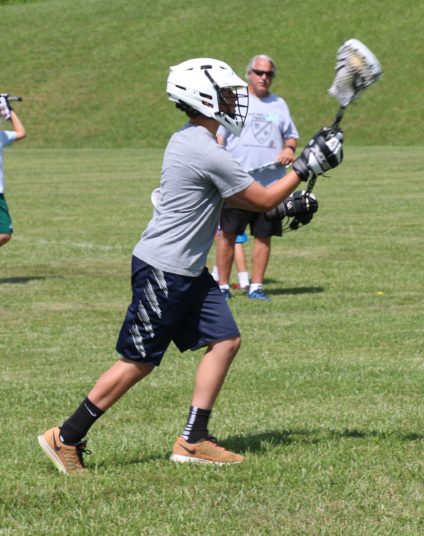 When you drove into camp (or when you will drive into camp for an upcoming session), it would have been impossible to miss seeing the new MegaZip (affectionately called "Zipzilla") or the new slick track. Those new attractions are our shiny new toys here at Airy, and so far the reviews have been super. Campers and staff alike are having a blast at these new activities.
What you don't see is another piece of the program that we have for campers – special guests at Airy who join in as coaches, artists-in-residence and more. Pictured today is Coach "Bird" in the background of a lacrosse clinic. Coach Bird works in a nearby school system, and has been at Airy this week working in both lacrosse and soccer. He'll be here for another week later in the summer.
I joined his soccer clinic yesterday, and I have to say it was quite a treat. We worked on speed and ball handling through drills and games, and then later a short-sided game. Coach new every camper's name, talked strategy with the guys, and joked about having a full scouting report when his teams met theirs this coming season.
Our staff benefit from these guest visits as well. It lets our counselors "talk shop" with someone in their field. Think of it as a coach for the coaches. On this day, Coach Bird had Adam, Brian and yours truly among his pupils. It was great to work hard and play hard with the group.
Our guests this summer include astronomers, musicians, artists, skaters, dancers, journalists and more. Many are camp alumni, so their homecoming allows them to give back to a place they love.
Marty
Today's Birthdays
Andrew – staff
Roz – staff
Today's Menu
[table "" not found /]
Today's Weather

High: 85°F | Low: 64°F