Louise Blog
Director's Blog – June 30, 2017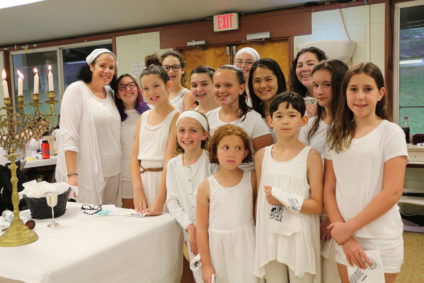 HOW WERE YOU KIND TODAY?
Every day when I drop my children off at school in the morning, the very last thing I tell them before they get out of the car is – "Be kind." When I pick them up at the end of the day, the very first thing I ask them when they get back in the car is – "How were you kind today?" As you can see, kindness is very important in our family. It is the foundation on which we live every day.
Throughout the week, we have talked a lot about kindness. Some of my favorite quotes we found online include:
Wherever you go, strive to leave footprints of kindness.
Be kind. For everyone you meet is fighting a battle you know nothing about.
Be the reason someone believes in the goodness of people.
I would rather be the one who waved than the one who didn't wave back.
Work hard and be kind. That is all.
Our Middah of the Week program has become a tradition at Camp Louise. Each week, campers and staff strive to demonstrate a certain middah (value/trait). As you can probably tell, this week was one of my all time favorites – kindness/chessed.
Campers are nominated to light candles with me for exhibiting kindness. Here are just a few of the ways we showed kindness this week at Camp Louise:
Helping a friend in mermaid training
Giving a friend a towel when a friend forgot one
Helping a friend with chores in the bunk
Putting another person's happiness before her own
Writing a card for the Dining Hall staff thanking them for all they do
Always being the first one to comfort friends whenever they are sad or hurt or just need a hug
Helping with chores of other campers if they are having trouble
Always being extremely supportive and kind no matter what her friends need
Offering help to those who need it
Making her bunkmates bracelets
Being an extra hand at all times to her counselors
Staying behind on the MegaZip trip to Airy in order to help people down and collect their equipment
Always going out of her way to include people who are sitting by themselves
Comforting and cheering up several campers
Always kind to everyone all the time
Giving her coat to someone last night when they spilled something on theirs
Letting everyone go in the shower before she did even though she was first shower since there was a possibility of a thunderstorm. She wanted to make sure everyone who went swimming had a chance to shower.
Going out of her way to help another camper in another unit who was upset and patiently sitting with her until she felt better
It costs nothing to be kind and it feels pretty good too. So, how can you show kindness in your life?
Alicia
[bq_color]
Today's Birthdays

Andi – Assistant Director, Support Services
[/bq_color]
Today's Menu
[table "" not found /]
Today's Weather

High: 86°F | Low: 67°F – A warm, sunny day with a few sprinkles this evening