Airy Blog
Director's Blog – June 30, 2018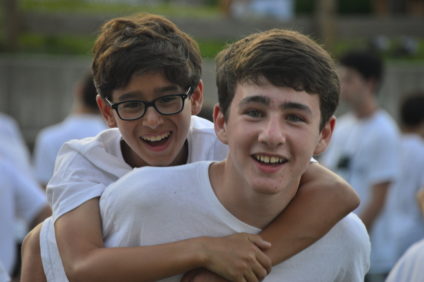 "We're All In This Together"
The theme of the past week at camp was teamwork. How could we help one another? How could we support the bunk? How could we pitch in when help was needed? I'm proud to say that at Camp Airy, examples are all around us.
We see teamwork in the little things. For example, on Saturdays campers have the option to sleep in or come to breakfast. Earlier arriving campers made space at tables for campers who entered later, passing silverware and collecting trash. At Shabbat services later, groups of campers and staff led prayers, readings and songs. The oneg that followed after services was run by the Airy STs – their teamwork was on full display.
During the afternoon, teamwork again was all around us. At the Airy pool, lifeguards help to keep us safe with shared shifts on the stand. In the "Shabboptions" potion of the afternoon, staff from all parts of camp came together to deliver a special interest activity with a Jewish twist. Activities that demonstrated a Jewish flavor included pita making, creative writing, clowning, improv, spirituality in music, and much more.
Our evening program brought us back together as a camp community, as our first Havdalah service of the summer commenced. Again, teamwork was reflected through the different components that make up the ceremony. The blessings over the grape juice, spices, candle light, and separation from Shabbat into a new week reminded us that all members of the camp team are necessary to create a meaningful experience. This truly shined the light on the end of a great first week for our campers and staff. The week in review video showed off so many members of our camp team in action all throughout week one.
Teamwork is present in our daily blog as writers and photographers both contribute to the finished product. As it was so beautifully stated in today's camp reflection at services by J-Shap, teamwork is a cornerstone of camp, at every age and in every aspect of life on the mountain.
Marty
Today's Menu
[table "" not found /]
Today's Airy Weather

High: 92°F | Low: 73°F
Warm (others say hot) and Sunny!