Louise Blog
Director's Blog – June 30, 2018
LOUISE LENDS A HAND PHILANTHROPARTIES!
Tonight's blog is written by guest blogger – Rabbi Elissa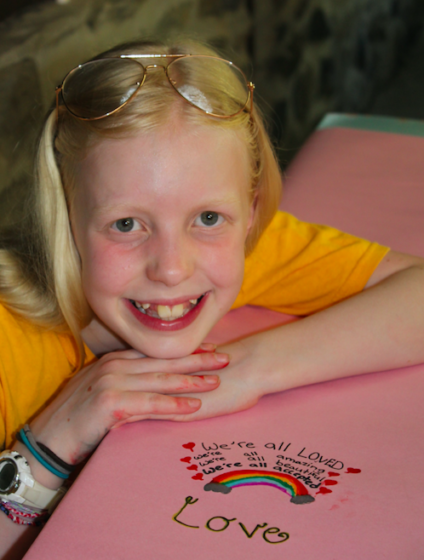 Tonight camp had a blast at the first ever Louise Lends a Hand PhilanthroParty! What's a PhilanthroParty, you ask? A PhilanthroParty is the brainchild of Lulu Cerone, the inspiring activist who at the young age of 11 conceived of LemonAid Warriors – kids doing things that kids love to do while making the world better at the same time. Lulu, now at the ripe old age of 18, has published a book about how to make service to others a party, literally.
Our rising 10th graders, the STs (Senior Trainees), led activities at 6 different stations teaching the rest of camp how to choose a cause, decorate, and create games for the PhilanthroParty we hope many of our campers will throw once they return home to you. Junior Camp played the classic Bar/Bat Mitzvah game "Coke and Pepsi" but substituted words relating to Animal Welfare and Endangered Species. They made invitations, table decorations, favor bags and party cups relating to Climate Change. They also assembled small bags of trail mix, which we will donate to a local food pantry, addressing hunger in a tangible way. Senior Camp had an activity about how to choose a cause for your PhilanthroParty. They made all the same things in Arts & Crafts that Junior Camp did, but inspired by the cause of diversity instead of Climate Change. Senior Camp also played a sing-down game focusing on women's empowerment.
Each of these activities on its own was a nice way to spend some time on a Saturday evening. Taken together, they demonstrate how much fun giving back to the community can be, as Lulu Cerone says, "Making social activism part of your social life."
So, next time your daughter wants to have friends over for an afternoon or a slumber party, you don't have to raise a million dollars or change everything that's wrong with the world. But instead of just making it a great social time, you can find the three easy steps to a fabulous PhilanthroParty on www.lemonaidwarriors.com (and below). Don't forget to email Alicia and tell her about the PhilanthroParties you throw once your camper comes home!!
Step 1: 
Pick a cause
What cause speaks to your heart? What do you want to fix? It might be in your community, or it might be on the other side of the world. Big or small, it all matters. Especially if it matters to you. 
Step 2:
Pick a date
Look at your calendar. Turn something you're already planning into a chance to help your cause. Birthdays, sports events, holidays, or even a simple Saturday afternoon with friends can be transformed for ultimate social impact.
Step 3:
Pick an activity
Be inspired by the theme of your chosen charity! Plan activities, recipes, and decorations that relate to the cause. If you love animals and you're having a pool party, have guests bring in old towels to donate to shelters and bake doggie treats!
We can't wait to hear about your PhilanthroParties!
Guest Blogger – Rabbi Elissa
[bq_color]
Today's Birthdays

No Birthdays – Happy UN-Birthday, Everyone!
[/bq_color]
Today's Menu
[table "" not found /]
Today's Weather

High: 89°F | Low: 72°F
A warm and sunny day with time in the pool and misters all around!