Airy Blog
Director's Blog – June 30, 2019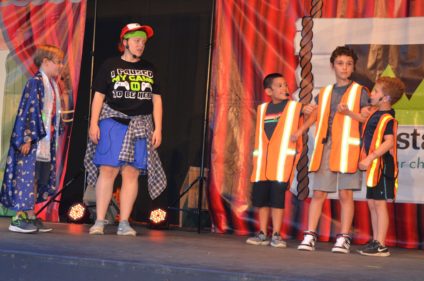 "Give My Regards to Broadway"
What if I told you that a camper got "trAPPed" in their cell phone applications? You might think it's a "see I told you so" moment for Camp Airy and our screen-free policy. And you'd be right! But on Sunday, we welcomed in Mainstages Educational Theatre Company for a day-long pop-up performance. The group's visit was made possible by a grant from the Foundation for Jewish Camp. Back in the winter months, we selected from a list educational partners, and we were paired with our top choice. Led by Mainstages players, volunteer campers were challenged to prepare the show in about four hours.
Back to the plot … One night, Benji is struck by lightning, and he is transported into the apps in his phone! The audience followed Benji on an inter-dimensional quest to navigate the life inside his apps and escape back to reality! The hi-jinx took off from there.
Here's what a few reviewers had to say:
"Beck played one mean mobile phone update algorithm."
"The audience just ate it up – like a s'more!"
"It was better than Cats."
"This performance will catapult Camp Airy Drama into Tony conversations … or at least 'Campy' consideration."
Like many of camp's sign-up opportunities, this show with the Mainstages team allowed campers to dive into a special immersive experience while also having access to all that camp has to offer on other days. Sunday also was a day where Airy (and Louise) sent teams over to Capital Camps for some inter-camp basketball and soccer competition. While we're proud that our teams competed hard and won, we are more proud that they volunteered to represent camp and took a risk where there was a possible outcome of losing. Had a team lost, we would celebrate that "FAIL" as a "First Attempt In Learning" and recognized the new challenge. Some of those campers, upon returning to Airy, rejoined their non-sports activities and interests, while others were headed off to more of camp's athletics offerings. The same can be said about the "trAPPed" cast. Our variety of skills, interests and opportunities make camp a one-of-a-kind community that stands out.
So long until the next blog,
Marty
Today's Birthdays

Jacob S.
    UNIT SPOTLIGHT – Unit F    

Hello and welcome to our Fiesta!!
Fiestas originated from Mexico and translate into festival or event! They are now celebrated all over the world and bring joy to many people. Our aim this summer to ensure that we can bring this joy to the campers of Unit F and ensure they have their own "Fiestas" in whatever way that means to them, this could be celebrating them passing the swim test, or climbing up the hill in record time, or simply writing a letter home. We want to have a fiesta to celebrate success no matter how big or small as this can vary from camper to camper. In doing so this creates a positive ethos in our unit and ensures there is a place for everyone, building respect from the beginning.
This week we are super excited to head downhill to CulinAiry to have a Fiesta themed cook-off! Our campers cannot wait, and they are already getting their kitchen heads on! Stay tuned!
David, Unit F Unit Leader
Today's Menu
Breakfast , Lunch , Dinner
Scrambled Eggs | Bagels and Cream Cheese and Lox Spread | Cereal | Fruit | Yogurt , Pizza | Caesar Salad | Zucchini Fries | Salad Bar | Pasta Bar | Chocolate Chip Cookies , Shakshuka | Rice | Waffles | Scrambled Eggs | Cereal | Milk
Today's Weather

High: 88°F | Low: 70°F
A beautiful day at camp.