Louise Blog
Director's Blog – June 30, 2019
It's a Circus Here at Camp Louise!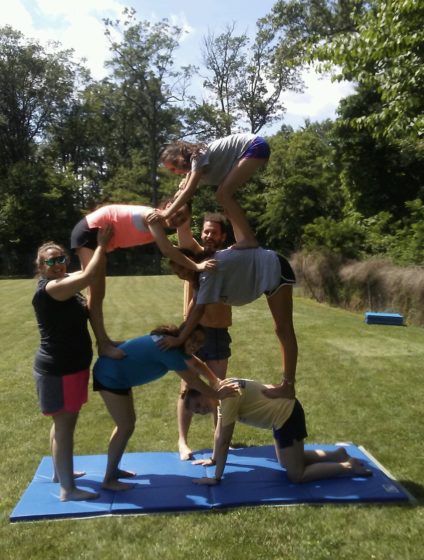 Last summer, we added aerial arts into our program and it literally took off! This summer, we decided to bring in a circus arts specialist to enhance the program. This activity was very popular and we had many campers from all different units sign up to participate.
I had the opportunity to spend some time with our circus arts specialist, Ayal. He starting juggling around the age of 12 and a couple of years later he attended a local circus day camp where he met the person who later became his mentor. Ayal became interested in aerial arts and acrobatics and he started performing with Circus Smirkus at age 16. In this traveling youth circus, they performed about 70 shows in 7 weeks. Ayal knew that this was what he wanted to do!
Ayal became a professional coach and he has been doing circus arts as his full-time job. He is the lead instructor at Espana Streb Trapeze Academy in New York. In addition, he offers educational workshops where participants study Jewish texts through circus arts. Ayal travels across the country to camps, schools and other institutions. We were so lucky to be on his summer tour!
During Ayal's time at camp, he taught pyramids and partner acrobatics. His goal is to teach trust and communication and to have fun! As a participant in his activities myself, I can certainly say that his goals were met!
Alicia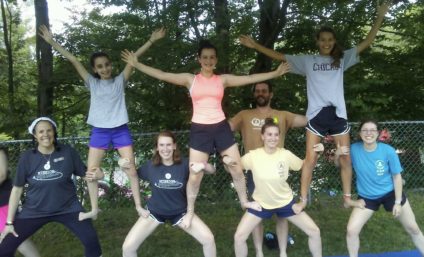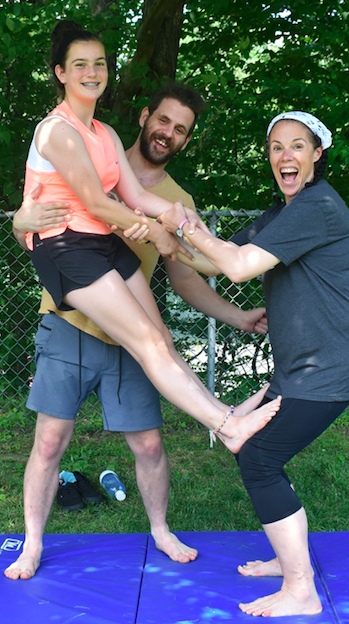 For more information, you can check out Ayal's website too: www.ayalcircus.com
Today's Birthdays

Hannah – Bunk 18
DIVISION SPOTLIGHT Junior Camp

Music is a uniting force here at Camp Louise.  Every day, we are united in song as we sing Hatikvah during morning flag or the "Thank You" song at the end of meals.  Friday nights, we unite for a spirited song session.  Tonight, I witnessed music unite two campers from different sides of the globe.
On the way up the hill, two campers were playing a hand game and singing.  This is a common occurrence, but this game was unique in that one pair of hands was from Ukraine and the other from America.  It began in unison, but differences quickly emerged.  With grins from ear to ear, the Ukrainian camper explained her version, singing as she demonstrated.  The American quickly caught on and they practiced as they approached Jill's Place for tonight's talent show.  By the time they reached the theater, they had it down.  At camp, even a routine walk and simple song can unite people from around the world.
Dapple – Junior Camp Division Head
Today's Menu
Breakfast, Lunch, Dinner
Scrambled Eggs | Bagels | Lox Spread | Oranges, Chicken Tenders | Tater Tots | Corn | Macaroni Salad | Salad Bar | Pasta Bar, Italian Night | Assorted Pasta | Marinara Sauce | Alfredo Sauce | Garlic Bread | Prima Vera Veggies | Mozzarella Sticks | Salad Bar | Pasta Bar
Today's Weather

High: 82°F | Low: 57°F
Another gorgeous day, sunny with a slight breeze and the sunset tonight – absolutely beautiful!