Airy Blog
Director's Blog – July 16, 2016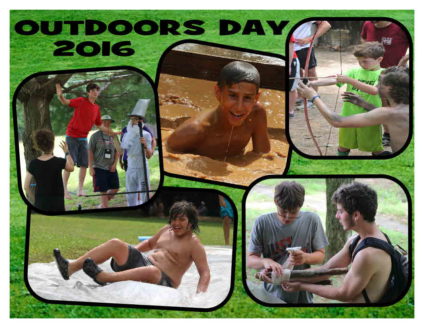 A set of summer Saturdays at Camp Airy is not complete without Outdoor Day. For as long as I can remember, Outdoor Day has been an Airy staple. The wacky, wild, talented, charismatic crew that live downhill at the Wanaga and Timber Lodges entertain and educate Airy campers and staff. The theme this time was "Lord of the Rings," as Gandalf, Smeagol and several other characters hosted a series of activities and challenges. Of course there were the ever-popular food station, a water slide, and a place to get muddy.
Activities like Outdoor Day exemplify why camp is such an important place. Where else can a young man do these types of activities? Where else can he do these activities with 12 bunkmates and dozens more friends? Where else do the leaders of these activities hail from places like the Netherlands, the United Kingdom, Israel, and the United States? The Airy Outdoor Staff truly helps camp deliver on this pledge: if a camper is athletic, creative, and/or adventurous, we have something for him.
As the third week of camp comes to a close, our Airy boys hit he pillow tonight tired for sure. When you play hard all day, sleep is a welcome thing. What more could you want … Slack lining and fire building and water sliding and playing in mud … and archery with a marshmallow!?!? We said goodbye to the week that was at Havdalah, reflecting on a middah of "kindness" and turning our focus to a new middah of "gratitude." I know that as our fourth week of camp begins, our boys will show their gratitude for fun like that of Outdoor Day, and for the friendships that have been formed and strengthened while on the mountain.
Marty
Today's Birthdays
none
Today's Menu
[table "" not found /]
Today's Weather

High: 88°F | Low: 66F
A warm, mostly sunny day.