Airy Blog, Louise Blog
Girl's Inc: Kids Helping Kids
We are so fortunate to spend our summers at Camp Louise and as a community, we are eager to give back to other communities and at the same time – share Camp Louise with others.
We have the amazing opportunity to bring two different groups here to Camp Louise during the summer and work with our CITs (counselors-in-training, rising 12th graders).  This blog will talk about one of those incredible groups…Girls Inc.
Throughout the summer, our CITs volunteer at Girls Inc. in Hagerstown.  This is an organization whose tagline is
Inspiring all girls to be strong, smart, and bold.
Many of the Girls Inc. centers can be found in low-income areas.  On their website, it talks a little bit about their history:
The Girls Inc movement started in New England during the Industrial Revolution as a response to the needs of a new working class.

Hmmmm….sounds pretty similar to the history of Camp Louise.
After our CITs spend time at their facility, the girls from Girls Inc have the opportunity to spend a day at Camp Louise with us.  One of our CITs Jill wrote about the day.
GIRLS INC GUEST BLOGGER – JILL BENJOAR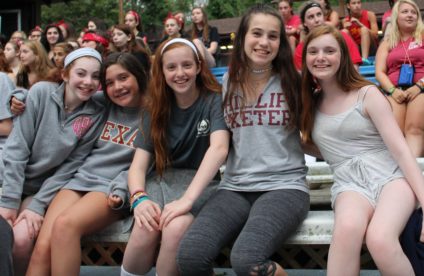 Nothing is more satisfying then sharing the gift of Camp Louise with new friends.  Girls Inc. from Hagerstown came to experience what our camp is all about.
The girls arrived around 10 AM with beaming smiles as they walked through the gate and into the White House.  Many of the Girls Inc. campers even ran to hug the CITs they have met while we volunteered at their campus earlier in the summer.  The arrival of Girls Inc. was just like the arrival of new and old campers on Opening Day!
They all split into four groups based on age and eight of our CITs joined each group.  We all played getting-to-know-you games and other camper games while waiting to go to activities.  All of the girls from Girls Inc. were ecstatic to meet more of the CITs and create new bonds.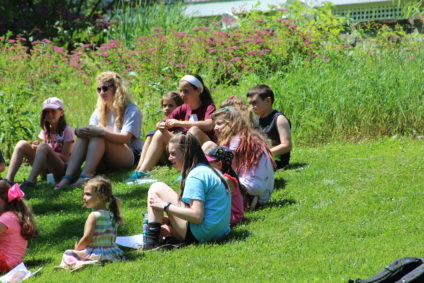 After an hour or so of playing games, we attended activities.  My group, which was also the youngest group with girls entering 2nd and 3rd grades, went to music.  We played a game called Music Memory which all of the girls enjoyed.  Their counselors even said that they were surprised how engaged all of the girls were and that none of them wanted to sit out.  The girls also learned lots of new songs, which the counselors were happy to teach them. We all ate lunch and then went to Field 2 to play soccer and play with a parachute.  
If you took a look at the scene, you would see CITs and young girls having the time of their lives.  Girls Inc. takes place in one building, so the girls don't get a chance very often to run around outside like this.  Everyone was truly thriving and enjoying everything that was planned for them.
At the end of the day, none of the girls wanted to leave.  They were raving about how much fun they had throughout the day.  One girl was even sobbing because she loved one of our CITs so much that she didn't want to let her go.  This was truly an amazing experience.
ROCKVILLE JCC GUEST BLOGGER – LINDSEY ROSENBLOOM
CIT summer is the final camper summer.  It is what many of our campers (even our littlest ones) aspire to at camp.  The CITs can be seen in crazy costumes all over camp, they learn from training counselors in little bunks and departments, they helps out on Opening Days, they sing us We Welcome You to Camp Louise, and they are a force to be reckoned with.  In addition to all of these privileges and responsibilities, they also participate in a lot of leadership training throughout the summer. They are learning to be leaders, not only at Camp Louise but in the greater community as well.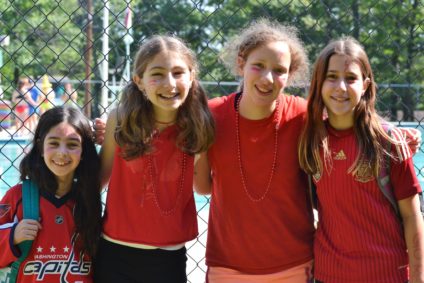 One of the training sessions they attend is learning about working with campers with a variety of special needs, led by our Senior Camp Division Head and Inclusion Coordinator, Sara Berlin Schreurs.  They learned both about our Inclusion program at Camp Louise, the girls we serve here, and about working with campers with a wider range of disabilities, such as those served at the Rockville JCC.  The CITs got a chance to spend a day with these visiting campers from after the training, so this was a time to learn and ask questions before meeting the campers.  The training session focused on an overview of different types of disabilities. We also discussed strategies for interacting with, supervising, and engaging campers with a wide range of needs.  Our CITs were also given time to ask questions.  They spent a lot of time asking really thoughtful and insightful questions in order to get the most out their experiences with our visiting campers, as well as their own little bunks here at camp.  It was a really impactful training session!
 We are so fortunate to have campers visit us from Camp JCC Kochavim, a program for teens with disabilities who have aged out of the inclusion program at the Rockville JCC.   As a part of their program, the campers go on two trips each week, such as to a bowling alley, aquarium, comedy club, basketball game, out to a restaurant to eat, and one day their trip is to Camp Louise.  Coming here to work with our CITs gives the campers from Kochavim an opportunity to interact with peers other than the camp counselors they see every day.
Imagine a huge gym filled with 37 sisters half asleep having just woken up from their morning naps.  Now imagine a group of teens and adults who have disabilities excitedly coming off their buses with their one-on-ones.  Potentially a horrible match of people in that big gym, but evidently it would be a moment when these 37 sisters and the teens and adults from the JCC Rockville would click instantly for a day to remember.
At first, most people felt a little timid, approaching the strangers with caution and big smiles on their faces. However, immediately any shyness melted away as we began talking with each other and getting to know everyone and their favorite things – favorite pastime, favorite song, favorite movie, favorite color.   The list of favorites and topics was never ending filled with giggles and jokes. Smiles were painted on everyone's faces all throughout the gym!
Having worked with kids with disabilities back at home, I eagerly jumped right in, approaching and interacting with as many campers from JCC Rockville as possible.  I proudly looked around seeing my 36 other sisters just as happy and engaging excitedly with all of the kids. Some were helping them eat their lunches by feeding them.  Others were dancing with their new friends and singing lots of camp songs. Many were just sitting around talking and getting to know their buddies. It was quite a sight to see.  We sang and danced with them, finding that even though we may go to different camps, live different lives and face different challenges, we are a lot more similar than we think- we even do some of the same songs like Golden Boy and Ziemann Ziemann (one of our folk dances).
All of the teens, kids and adults that I talked to left such a huge impact on me.  They taught me what true acceptance means and what true joy means. The best way to explain it is through the talent show that we did with them.   Everyone from JCC Rockville wanted to perform and showcase their own talents whether it be basketball, singing or even doing zumba. No one was afraid to get up on that gym stage and no one cared how good they were at their talents.  After every single camper, crazy cheers and compliments spewed around the gym for each person. No one was whispering to their friends around them. No one was sitting there judging their every mistake or misstep, everyone was showing unconditional support and love.  That's true acceptance. And that true acceptance leads to pure joy radiating off of them with huge toothy grins as they basked in cheers of their new friends.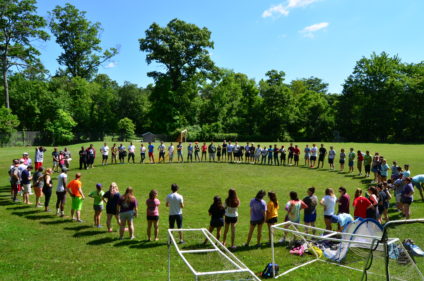 For these adults, kids and teens, it may have just been a day of fun and games.  But, for me, it was so much more than that. It was indeed a day of games and fun, but, even more, it was also a day when I truly discovered my passion for working and helping those with disabilities and struggles, and solidified that love and passion.  It will surely be a day that I will always remember when I look back on my CIT days.
CAMP GREENTOP CA GUEST BLOGGER – ESTHER FRANCES
Camp Greentop is a sleepaway camp that offers entertaining activities for the mentally and physically disabled.  Greentop offers sessions for children and adults alike and has counselors from all across the globe, including England, Scotland and New Zealand.  As soon as we arrived, I was fully aware of the welcoming environment and was excited to interact with the campers there. We took a tour of the homey cabins and spotless latrines, and then joined a group of campers in a game of handball.   The counselors were upbeat and inviting as they constantly encouraged and cheered on every camper participating. From just the short hour we spent there, I could tell how much fun each and every camper was having and was very impressed with how the camp was being directed.  Greentop is home to around 80 campers each session, and some campers even sign up for multiple sessions. It was very eye opening to see all of the opportunities that disabled children and adults had at Camp Greentop, and I hope they continue to relax and enjoy their time over the summer.  
CA GUEST BLOGGER – MISSY PAVORSKY 
I found it to be absolutely amazing.  It is such a great feeling to know that there is a place, like Greentop, for people of all ages to experience a wonderful time with wonderful people.  
CA GUEST BLOGGER – ABBY GARELICK 
All of the kids were so happy and energetic despite all they've been through and I want to do that from now on.  

CA GUEST BLOGGER – ELLIE COWEN 
I do believe this will have a lasting impact on me because I was able to see how happy the campers were at a place so similar to my second home.