Airy Blog, Louise Blog
How Single-Gender Camps Foster a Sense of Community
Wouldn't it be great to send your son or daughter somewhere – an activity, a group, anywhere really – where they could develop a sense of kinship with members of their own gender? A single-gender summer camp is exactly that – a community greenhouse that will teach them the ins and outs of brotherhood and sisterhood. It's a club that will impress upon your child to develop as an individual and as a member of a greater population with shared interests, capabilities, strengths and weaknesses.
The experiences and activities encountered at a single-gender camp might look like those engaged in elsewhere. Children eating in a dining hall. Lifeguards supervising free swim. Kids playing sports or performing on stage. Campers roasting marshmallows over an open fire and counselors strumming bonfire tunes at whim. Only, when these events take place at a single-gender camp, they are internalized differently and can allow for a sense of community to develop. Why? We're glad you asked.

WITHOUT PRESSURE FORM THE OPPOSITE GENDER, A COHESIVE COMMUNITY
CAN FORM
In co-ed environments, there is often a sensed pressure for members of the opposite gender to "show off" for each other. But when you're in an all girls' or all boys' camp, preoccupation with makeup, muscle flexing and other stereotypical flirting tactics melt away. Instead of worrying about what may or may not impress the objects of their affections, boys and girls attending single-gender camps can relax. And instead of taking part in activities that society assumes each gender might be interested in or successful at, boys and girls can be themselves and engage in activities that interest or intrigue them as individuals.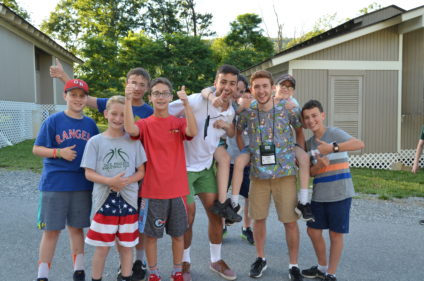 But what does this have to do with fostering a sense of community, you may ask. When boys and girls let their guards down and allow themselves to participate in activities that excite them or tap into their unique talents, each individual's authentic skill set is given permission and room to surface. Some campers may choose to focus on the arts. Others may show a talent for sports. The common thread is that each child is able to find his or her own niche – where he or she belongs within a greater community.
Each individual is given a sense of purpose within the camp ecosystem, a sense that they are part of something beyond his or herself in the here-and-now and can make impactful contributions. It also enables campers and camp staff members to know who they can turn to in different situations, just like in mature community environments.

WHEN IT'S JUST BOYS OR JUST GIRLS, THE CAMP ENVIRONMENT CAN CREATE BROTHERHOODS AND SISTERHOODS THAT NURTURE LIFELONG FRIENDSHIPS 
Another advantage of removing romantic distractions from the camp environment is that space is created for boys and girls to invest greater time and effort into making lifelong friends. Because they are of the same gender, campers are naturally able to find many common links with each other. They can truly bond, creating well-founded brotherhoods and sisterhoods rooted in their affiliation with the camp, because no member of the opposite gender is competing for their attention. In a single-gender environment, campers can support each other through new and difficult experiences, giving each other the confidence to try out the new and the unknown.

IN A SINGLE-GENDER ENVIRONMENT, CAMP COUNSELORS BECOME COMMUNITY ELDERS, FOSTERING THE DEVELOPMENT OF THE NEXT GENERATION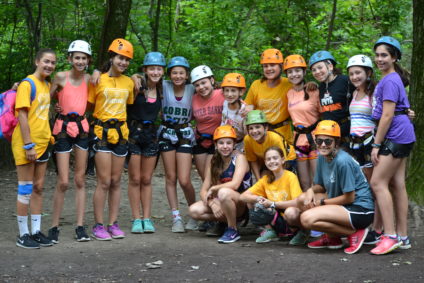 In co-ed camps, counselors serve as role models, demonstrating proper conduct and providing guidance when needed. In single-gender camps, counselors take on a much more significant role. They act as community elders, mentors who can impart wisdom based on experience and model leadership in real situations as they unfold. And they can coach campers through valuable lessons in breaking down traditional gender stereotypes. Male counselors can teach boy campers valuable lessons on expressing emotions and female counselors can encourage girl campers to take risks and stand up for what they believe in. They thus assume integral roles in nurturing the next generation of male or female community members and leaders.
The single-gender camp environment is a microcosm of social interaction and personal development. Without members of the opposite gender around, campers can look to their counselors as role models and to their peers as brothers or sisters, forming a tight-knit and long-lasting community. Campers' first encounter with a greater, active community at Camps Airy & Louise provide a sense of belongingness in something greater than themselves.It also fosters boys' and girls' sense of responsibility and investment in community activity, positive attributes they will likely carry with them through adulthood.
Have more questions or wondering if a single-gender camp environment is right for your child? Give us a call and we'd be happy to discuss it with you and your child.