Airy Blog
Jake Shapiro: 10 Underrated Places at Airy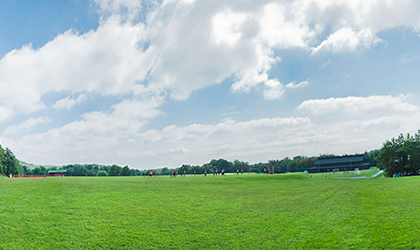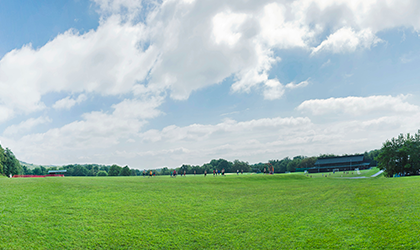 With over four hundred acres of land, almost a hundred years of history, and a border with a national park, there's a lot of cool places around camp you might not have heard of. This summer, make it your goal to visit every one of these places and see them for yourselves! Just make sure your counselors know where you are, and if you don't know where something is, ask a counselor to show you.
My ten favorite spots at camp that not everyone knows about (in no particular order):
1) The Earth Lodge
(Nature Center). Location: in between the pool and DSH (downhill social hall). While you've probably walked past the nature center hundreds of times, a lot of people have never been inside! The nature center is full of cool things like rocks, animals, and nature posters. A "space room," a darkened room with painted constellations, planets, and galaxies, was recently added, and is definitely worth checking out.
2) Blue Ridge Summit Overlook.
Location: about a forty minute hike into Catoctin Mountain Park. While everyone's been to Wolf Rock, Airy Rock, Thurmont Vista, and the Watering Hole, Blue Ridge Summit Overlook is a less popular hiking destination. I love this spot because it has an incredible view of rolling green hills and quaint farmland. It is one of the most peaceful places I've ever been to, and when we do hike there, we usually take 5-10 minutes to sit in silence and just soak it in. Next time you're on a hike, ask the counselor to bring you to Blue Ridge Summit Overlook!
3) Yoga Pavilion.
Location: Behind and left of the Chernak Gym. The yoga pavilion is another quiet, peaceful, little known spot in camp. While it's nothing more than an isolated pavilion, it offers an escape from the craziness of a day of camp. Whether you go there to do yoga with Ms. Framm, meditate with Thunder Dan, or just hang with friends, the yoga pavilion is a great spot to hang out.
4) The Whitehouse Cave.
Location: ?????. The Whitehouse (where we eat meals) is over a 100 years old, and has transformed from a small retreat for the Jesuit order to a huge, air-conditioned dining hall. Being so old, there are some mysteries about it. Don't just go looking for the cave, because you won't find it, but maybe a counselor will show you…….
5) The High Ropes Course….at night!
Location: Timber Lodge. So we've all been on the high ropes course, and we've all had a great time. But who's been on it at night? Some of the elements like the giant swing and the zip line can be transformed into awesome night elements! The feeling of flying through the forest in pitch darkness with only glow sticks to light the way is something not to be missed. Talk to the Outdoors Staff or your counselors about organizing a night climb!
6) Old Bunk Row and the Old Pool.
Location: Behind the current pool. Take a walk through camp history and check out where you would have lived and swam if you came to camp in the old days! While the very first campers lived in a small farmhouse and then the Whitehouse, for many years campers lived in bunks at the bottom of the hill, and swam in the creek fed pool. At the time, our pool was one of the biggest and most advanced pools in the whole country! The stories go that every morning, campers woke up and first thing ran to jump into the chilly pool. Sounds fun to me! Finding the old bunk row might be a little hard, especially because there's not much left. The bunks all burned down in a fire in the 70s, but you can still see the foundations, and some stAIRYways to nowhere. Ask a counselor to show you old bunk row, or walk through it with the nature department!
7) Escape tunnel to Camp David.
Location: ????. What? Who said that?
8) Chimney Rock.
Location: Catoctin Mountain Park. Another lesser known hike destination, Chimney Rock offers an unmatchable view of the Catoctin Mountains. It's a bit of a longer hike and definitely requires two periods, so make sure to sign up for hike clinic or outdoors hike trips!
9) Camp Welcome Center.
Location: Across the street from the Whitehouse, right next to Marty's white cabin. The Camp Welcome and History Center is a new and exciting addition to camp. Through the hard work of Marv Rosenstein and Harriet Kuhn (among others), the Welcome Center has been transformed into a truly fascinating and exciting place, for campers and parents alike. Come immerse yourself in camp's history as you explore a wealth of artifacts, mementos, pictures, and texts. Camp's almost one hundred year history makes it unique and special in a way not many other camps are. Seeing your time at camp in the context of camp's greater history really brings your time there together, and roots you to what's real and important at camp. Plus you can see your old bunk pictures, whether you were a camper in the 70s, 80's, 90's, or 2000s! Check out the Welcome Center, the only thing you won't like is that you have to leave.
10) The Porch.
Location: Your bunk! While there's a million and one cool things to do and see and experience at camp, nothing will ever beat hanging out on your front porch with your best friends in the world. Sitting around with nothing in particular to do, nowhere to be, no tv to watch and no worries in the world is what I've come back to camp every summer for eleven years for. Cherish those times, they're the best in the world. Now, who wants to play spades?
I hope you all enjoy this list and find all of these places! Some places (like the Welcome Center) I highly recommend that parents and campers check out, otherwise parents you'll just have to hear from your boys and see their smiling faces on bunk one! Have a great offseason everyone, and if anyone wants to find any of these places next summer, I would love to help you find them.