Louise Blog
June 27, 2016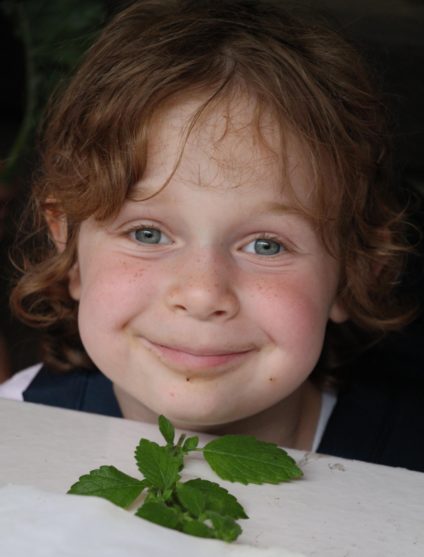 Farming at Camp Louise
We are so fortunate to be in our fourth year of our great partnership with Amir. Through engaging and educational activities, campers and staff learn lots!
I spoke to some of the campers in bunk #17 (one of them pictured here) about what they learned while they were at the farm today.
The girls eagerly told me about their time on the farm. In their words:
– We got to use all our senses with the plants.
– But not really all our senses – we couldn't hear them.
– We did get to feel and taste the plants – mint and kale and lemon balm and pineapple!
– It was really fun!
When I asked them why it was fun, they explained that it wasn't something that they get to do at home and also that it is really important to know how to take care of plants and animals and our environment. From the mouths of some of our youngest campers….pretty incredible!
Farmer Max went into a little bit more detail about the activity. The campers spent some time in the farm and then it started to rain so the farmers decided to bring the farm to the campers. They stayed close by and went under a covered area to continue learning about the farm. The campers learned about the plants and talked about where and how they grow. Then, they got to design their own farms and draw pictures showing where and what they would plant.
Tasting the plants was definitely a highlight for the campers. Farmer Max told me about the importance of helping the campers make connections and providing this bridge of knowledge to our food system.
When the campers smell oregano, they immediately think of pizza. The mint has a connection to toothpaste for them.
Later in the afternoon, the farmers took this activity to the next level and they did food meditation with some older campers. It was a race to see who could eat the SLOWEST. They discussed the importance of noticing the food's texture, the work that went into it, who grew it and picked it, and taking time to truly appreciate it – a lesson we all can learn….slowing down, noticing and appreciating….not just racing to get to the next thing.
Something to think about on this beautiful, cool evening…..
Alicia
[bq_color]
Today's Birthdays

Josie – Bunk 18
Kendall – Bunk 21
Nicole – CIT
Rachel – Counselor
[/bq_color]
Today's Menu
[table "" not found /]
Today's Weather

High: 85°F | Low: 69°F
It was sunny and breezy this morning.  After lunch, we had a little bit of rain on and off but nothing can put a damper on the fun here at Camp Louise.  We have fun rain or shine!