Director's Blog – July 1, 2018
CAMP-FIL-A!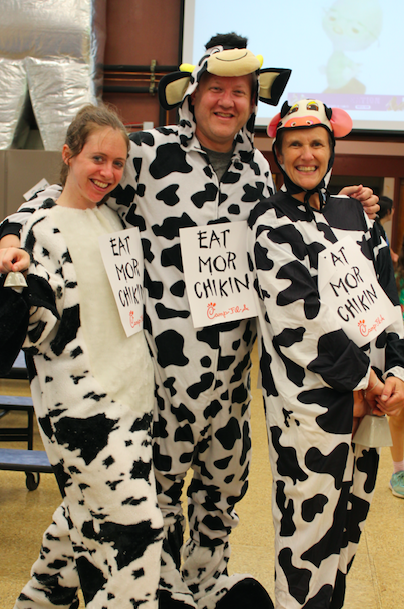 We spend a great deal of time in the Dining Hall – gathering for meals and activities, enjoying food and time with friends, listening to announcements, celebrating birthdays, getting a reprieve from the heat in the air conditioned building, and even singing and dancing too!
Tonight, we walked into the Dining Hall for quite the scene….three cows jumping and dancing around! You never know what to expect and that's part of the fun! As you can imagine, there was a great deal of laughter and smiles and a little bit of confusion for Camp-Fil-A Night at Camp Louise.
Chicken songs were playing, campers were dancing. It was UDDER-ly awesome! We MOO-ved on down the buffet lines to get our food while dancing and singing to the following:
Chicken Nugget Song Parody – https://www.youtube.com/watch?v=gFAZVWd5Edk&list=PLFmQGhVRWUTh7DEKfm5_rmFeukSBYzeVe&index=3&pbjreload=10
J.Geco – Chicken Song – https://www.youtube.com/watch?v=msSc7Mv0QHY&list=PLFmQGhVRWUTh7DEKfm5_rmFeukSBYzeVe&index=1
And of course the Chicken Dance – https://www.youtube.com/watch?v=Hb9FwlubyIQ&list=PLFmQGhVRWUTh7DEKfm5_rmFeukSBYzeVe&index=2
Taking a regular chicken sandwich, waffle fry meal and adding cow costumes, bells, and chicken songs – makes for just another fun, creative, random day at Camp Louise!
And as we get ready for flashlight time here in 21719….
What did the counselors say to their campers?
It's pasture bedtime!
G'nite!
Alicia
Today's Birthdays

Chen – Counselor
Today's Menu
Breakfast
Lunch
Dinner
Bagels | Lox Spread | Scrambled Eggs | Orange Wedges | Cereal Bar
Italian Night | Pasta Bar | Marinara Sauce | Alfredo Sauce | Garlic Bread | Italian Veggies | Mozzarella Sticks | Salad Bar
 Camp-Fil-A | Grilled and Crispy Chicken Sandwiches | Waffle Fries | Corn | Broccoli | Salad Bar | Pasta Bar
Today's Weather

High: 93°F | Low: 74°F
Another sunny, hot day with lots of hydration, sunscreen, misters and pool time!