News
"Open Greenhouse" Helping Campers Learn Environmental Responsibility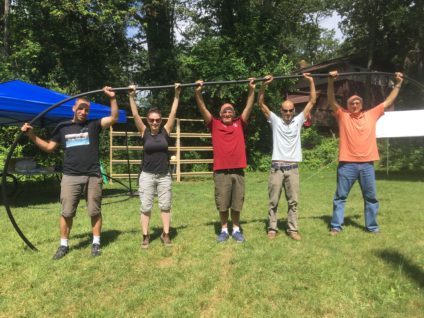 The Open Greenhouse at Camps Airy & Louise is a multi-faceted combination of immersive artwork, cutting-edge research center and trigger for pluralistic dialogue about environmental responsibility. Created forty years ago by Israeli artist Avital Geva, the Open Greenhouse was exhibited at the Venice Biennale in 1993 and is permanently housed in Kibbutz Ein Shemer in Northern Israel. Now, for the first time, this unique experience has been transported to a camp in America, exclusively at Camps Airy & Louise this summer.
"We are delighted to host the Open Greenhouse at Airy & Louise this summer," said Executive Director Jonathan Gerstl. "The Open Greenhouse project brings our campers a unique opportunity to engage with their responsibility to care for the world, as well as to discover the joy of farming and growing plants."
In the Open Greenhouse, children and adults alike explore sustainability, hi-tech food production, water purification and climate change in an open and immersive setting. Recognizing the link between the Greenhouse's educational goals and the values of Camps Airy & Louise, a diverse group that includes rabbis, artists, farmers and educators has traveled from Israel to the Baltimore area to share the project's full impact with Airy & Louise's campers.
"The Open Greenhouse brings a unique opportunity for Airy & Louise's campers to engage with the environmental challenges that face us all and investigate ways to save our diminishing resources," said Joe Perlov, who traveled from Israel to launch the Open Greenhouse at both Camps over the summer.
The Open Greenhouse presence at Camps Airy & Louise brings an innovative way for campers at Airy and Louise to discover more about their responsibilities to the world as well as the joy of working the land. Campers will take part in activities that include growing their own vegetables, creating a hydroponic organic farming system or learning about the role algae can play in feeding the world. In a setting that encourages introspection and debate, campers will discuss Jewish sources of ecology and hear about some of the excitement from our Israeli counselors.