Airy Blog, Louise Blog
The New Camp Airy Ski Lift
APRIL FOOLS!
Did we get you? We couldn't resist! There is not a new ski lift at Camp Airy. 🙂
Check out the full prank below:
[line]
After months of keeping it a secret, Camps Airy & Louise are proud to finally announce the construction of a ski lift for the dreaded Camp Airy hill.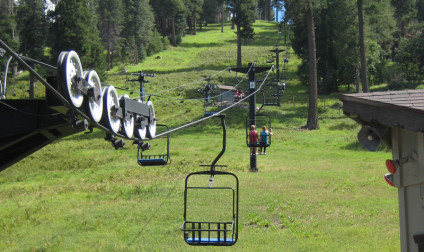 Construction began in February and is entering the final stages of safety quality assurance. The ski lift starts at the Nature lodge and releases at the visitor's center at the top of the hill. It will be transporting campers and staff uphill 24/7 during the summer.
The idea to build the ski lift came out of years of complaints from both Airy and Louise campers that the hill was too big. On average, Airy campers travel up and down the hill three times a day. With residential bunking uphill, and the field activities, the pool, and outdoors elements being downhill, the administrative team decided it was time to make both areas of camp more accessible. The ski lift is the solution.
"It wasn't just the Airy campers we were hearing from, but whenever Louise came to visit, they were reluctant to even attempt to climb the hill," explains Airy director, Marty Rochlin. In fact, this decision was made shortly after a Louise camper protested climbing the hill by setting up a campsite at the bottom of it during a Crossover trip.
"We are looking forward to seeing how our campers react to it on opening day," said Marty. But it's not just the campers that will be thrilled. Each opening day, parents have the decision to either climb the hill or take a shuttle uphill. In recent years, more parents have chosen to shuttle, especially due to the increase of luggage campers are bringing to camp each summer.
Meanwhile, Camp Louise is currently discussing the possibility of building a ski lift from the White House up to bunk 32 at the top of the hill. The topic will be revisited in the fall of 2015 after Camp Airy is able to trial the success of its own ski lift.
We know change can sometimes be hard- Don't hesitate to contact us with any questions, concerns or feedback on the new project.